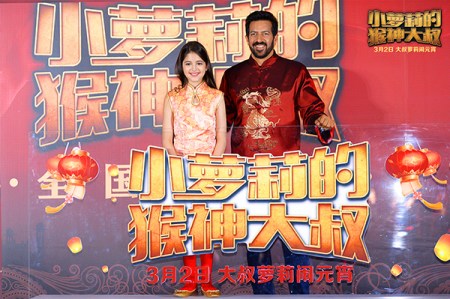 Director Kabir Khan and actress Harshaali Malhotra promote "Bajrangi Bhaijaan" in Beijing, Feb. 26, 2018. (Photo provided to China.org.cn)
Nearly three years after its original release in India, the critically acclaimed "Bajrangi Bhaijaan" will hit Chinese theaters on March 2.
Director Kabir Khan and the film's young star Harshaali Malhotra, both wearing traditional Chinese clothing, attended the Chinese premiere held in Beijing yesterday. Malhotra, now 9, smiled throughout the event but spoke very little, just like the character she played in the film.
"We auditioned maybe 2,000 girls, and finally chose Harshaali because she not only has a pretty face but also had enthusiasm to do the film," the director said at the premiere, "and she is totally a natural-born actress."
He also revealed that although co-star Salman Khan was known as the biggest action star in India, the director felt they should do something different after their collaboration on the spy thriller action film "Ek Tha Tiger" (2012). Salman Khan agreed and happily took part in the "Bajrangi Bhaijaan" project, a movie that is instead, according to its director, "about love."
The film tells the story of how Bajrangi (Salman Khan), an ardent devotee of Hindu deity Hanuman, embarks on taking a mute six-year-old Pakistani girl (Harshaali Malhotra), separated in India from her parents, back to her hometown in Pakistan.
The director Khan said that he made this film to talk about "love within people and the fact that borders cannot divide people."
"Bajrangi Bhaijaan," which means "Brother Bajrangi," will be released in China under the title "Little Lolita's Monkey God Uncle." "Monkey God Uncle" refers to the character Bajrangi, who is named after Bajrangbali (Hanuman), the Hindi God who provided the inspiration for the Monkey King character in the classic Chinese novel "Journey to the West." "Little Lolita" in Chinese slang often has no sexual connotations, instead only meaning "cute little girl," in reference to the young character played by Malhotra. The Chinese version will also be cut down in length from 159 minutes to 140 minutes.
The worldwide gross of "Bajrangi Bhaijaan" has already been 629 crore (US$98 million) as of 2016, making it the second-highest-grossing Indian film ever at the time, behind Rajkumar Hirani's satirical sci-fi comedy film "PK." Now with its upcoming release in China, it may earn a much higher box office haul.
The Chinese film market has provided an unmistakable boost to Indian films' earnings and chart positions. Last year, the booming market shot "Dangal" to the number one spot as the highest-grossing Indian film ever. "Dangal" grossed over US$330 million worldwide, including more than US$204 million in the Chinese market.
Another Indian film, "Secret Superstar," also made 746 million yuan (US$118.28 million) since its release in China earlier this year, which helped the film become the third-highest-grossing Indian film of all time. India's domestic income for "Secret Superstar" pales in comparing to what it has done in China - by the end of 2017, the film only grossed 89 crore (US$14 million) in India.
Director Kabir Khan is not too surprised by the phenomenon. "India and China have so much in common, " he said, "they are giant Oriental civilizations that has been living next to each other for thousands of years." He said he believes the peoples of the two countries have the same way of looking at emotions, family structures and relationships. "We could find more relevance in China than in other parts of the world, and I'm sure Chinese films will find relevance in India."
The director's next film will be the travel drama "Zookeeper," an Indo-Chinese film production slated for release later this year which will be shot in China's Chengdu city and the surrounding area.
Building on the success of "Dangal" and "Secret Superstar," as well as positive word-of-mouth since 2015, "Bajrangi Bhaijaan" will be getting a wide release in China on March 2. The date coincides with the Lantern Festival that ends China's traditional Spring Festival and Lunar New Year holidays, a time of year when people celebrate family reunions, mirroring the theme of the movie. The film had advance screenings in 29 Chinese cities on Feb. 6, receiving positive feedback from audiences.