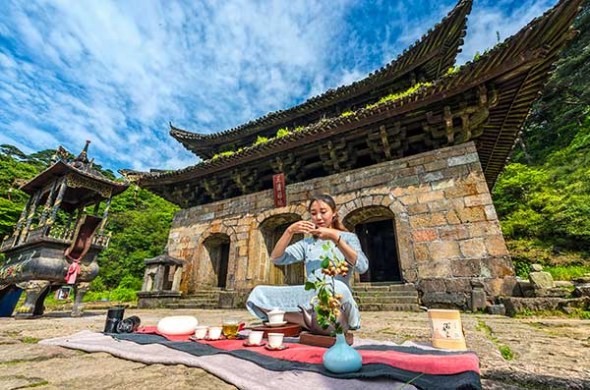 Longhu Mountain in Jiangxi province is a sacred site of Taoism.(Photo by Liu Jie/For China Daily)
Archaeologists excavating the ruins of China's largest Taoist temple have found that its structure bears a striking resemblance to that of palaces in Beijing's Forbidden City, the former imperial residence. Experts have cleared 5,000 square meters of the site at Longhu Mountain, Jiangxi province, where the main building of the Great Shangqing Palace was located before it was destroyed by a fire in 1930.
Hu Sheng, director of the archaeological project, said the palace was rebuilt during the Ming Dynasty (1368-1644). It was built based on the Palace of Heavenly Purity and the Palace of Earthly Tranquility in the Forbidden City, which were occupied by emperors and empresses respectively, according to Hu.
Experts have said the temple's architecture resembles the imperial palaces.
The original Taoist temple was built as early as the Song Dynasty (960-1279) at the foot of the mountain. It was later expanded and became an imperial palace for Taoist practice through the Yuan Dynasty (1271-1368), and experienced several rounds of renovation under the order of emperors during the Ming and Qing dynasties.
In addition to the structure, the yellow-green tiles unearthed at the site are the same as those used on the Ming Imperial Palace in Nanjing, Jiangsu province.
Other imperial symbols were found at the temple, such as the use of animal and dragon motifs on the roof and eaves.
A bronze bell found earlier at the mountain weighed 4,999 kilograms and dated back to the Yuan Dynasty. It was only 500 grams lighter than the one in the Forbidden City.
Hu said Chinese imperial architecture had strict regulations on size, structure, decoration and use of color. "The findings showed that the Taoist palace bears a royal character. It was the highest Taoist center in the country," he said.
Although it was located on a remote mountain in eastern China, the Taoist palace was built in the style of official architecture in northern China, showing the close relation between the imperial power and Taoism, said Cui Guanghai, deputy director of the Cultural Heritage Protection Center at Tsinghua University.
He said more important information is expected to come from the excavation and research on the ruins. Archaeologists have spent four years on the excavation. In addition to the core palace excavation, they have surveyed 29 historical sites over a 30-square-kilometer area.