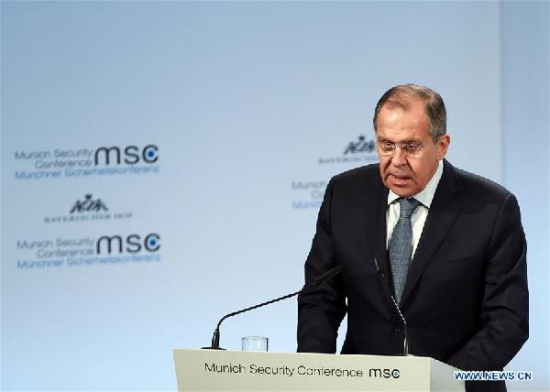 Russian Foreign Minister Sergey Lavrov (Xinhua photo)
Russia is ready to vote for a resolution by the United Nations Security Council on humanitarian ceasefire in Syria's eastern Ghouta, but only on the condition of guarantees from all sides, the Russian Foreign Ministry said Friday.
"In order for the resolution to be effective, and we are ready to agree on such a text, we propose a principle that will make the ceasefire real and based on guarantees of all those inside and outside Eastern Ghouta," Russian Foreign Minister Sergei Lavrov told the media following a meeting with his Uzbek counterpart Abdulaziz Kamilov, according to a ministry transcript.
On Thursday, the Security Council discussed the situation in Syria's besieged eastern Ghouta, but failed to reach an agreement on the draft as members were divided over the text. Russia proposed to amend the text for "it to be realistic."
Lavrov underscored that the ceasefire resolution debated at the UN Security Council gave no guarantees that the militants would adhere to it.
"The guarantees, of course, should be backed by guarantees of external players, primarily those who have influence on extremist groups that have settled in this suburb of Damascus," he added.
According to Russian Ambassador to the United Nations Vassily Nebenzia, Russia prepared amendments to the ceasefire resolution and offered to the members of the Security Council on Thursday.