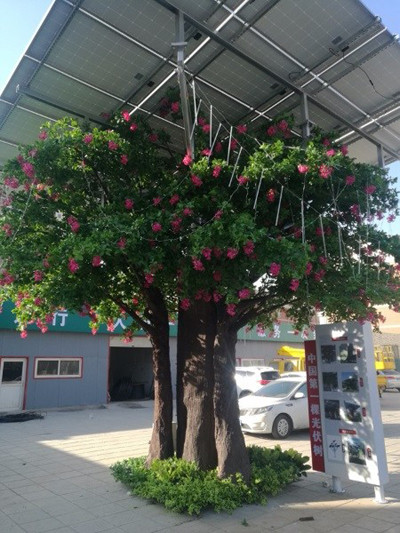 Solar panels are installed on top of an artificial tree in Xiongan New Area. (Photo provided to China Daily)
A solar photovoltaic system has been installed on top of an artificial tree in the Xiongan New Area in Hebei province.
This system, called PV Tree, will mainly act as a solar power generation and storage station.
It will also transmit cell phone signals, provide Wi-Fi services and support environmental monitoring instruments, according to the designer, IT Electronics Eleventh Design & Research Institute Scientific and Technological Engineering Corp.
"The green power generation system has the appearance of a tree, and helps cut coal consumption while enhancing the urban landscape," said Yang Peng, assistant to the regional head of IT Electronics in Xiongan.
Xiongan, established in April, is about 100 kilometers southwest of Beijing and is slated to become a green, smart and livable area.
The PV Tree could generate about 30 kilowatt-hours a day, saving about 10 kilograms of coal and reducing corresponding emissions.
"Because it's clean, the system is in line with the development trend of Xiongan," said Wang Yongjiang, deputy director of State Grid Hebei Electric Power Supply Co's Anxin branch at Baiyangdian station, where the tree was "planted".
Wang added that if the pilot PV Tree performs well, they plan to bring in more once the final development plan for Xiongan is released.
According to plans for the new area, it will be a green and livable modern urban area with more than 70 percent of the area covered by water and trees.
Woodland coverage in Xiongan will surpass 40 percent by 2030, more than double the national average, Liu Baoling, executive deputy director of the area's administrative committee, said earlier.