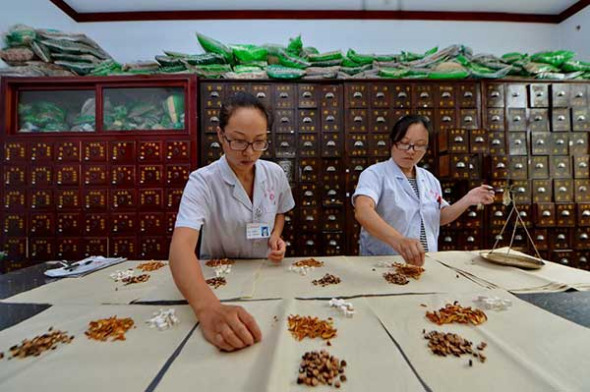 Built on more than 2,500 years of medical practice, the TCM contains various forms of treatment, including herbal medicine, acupuncture, massage, exercise and dietary therapy.(Photo/Xinhua)
China's top experts in traditional Chinese medicine have developed seven treatments that can potentially combat the growing resistance to antibiotics, a global public health threat that could kill 10 million people a year by 2050.
The treatments are based on TCM clinical experience and outcomes in curbing antimicrobial resistance, which happens when microorganisms, such as bacteria and viruses, mutate when exposed to antibiotics and antivirals, or AMR.
AMR results in medicines becoming ineffective and infections persisting in the body, increasing the risk of spreading to others.
To develop the treatments, the China Academy of Chinese Medical Sciences set up a process to screen out antibiotic candidates from a pool of TCM drugs used to combat AMR, according to Zhang Boli, the academy's director.
However, he said further large-scale clinical trials are needed before TCM antibiotics can be embraced and promoted globally.
"TCM is notably effective in defeating toxins released from dead bacteria cells," he said, citing clinical experience. "It's a bona fide comprehensive method compared with the Western medicine approach."
The World Health Organization has warned that new forms of resistance to antibiotics are emerging and spreading globally, threatening our ability to treat common infectious diseases and resulting in prolonged illness, disabilities and death.
Zhang said TCM is promising in addressing the problem Western medicines are failing to combat. "This year, more efforts will be devoted into evaluating and strengthening the TCM filtering platform to screen out more infection-killing TCM remedies.
Previous experiences showed some TCM remedies can be used as a substitute for Western antibiotics in the presence of some viral diseases, or lower the viral load. During the latent period-often at the beginning or near the end of treatments-TCM antibiotics can take effect, he said.
Led by the National Health and Family Planning Commission, the institute convened early last year a top-level research team of medical experts searching for TCM solutions to anti-microbial resistance, according to Cao Hongxin, former head of science and technology at the State Administration of TCM.
Tu Youyou, China's only Nobel laureate in medicine, was on the team. Tu won the Nobel Prize in 2015 for her discovery of artemisinin, an antimalarial treatment derived from sweet wormwood, a TCM herb.
Xiao Yonghong, a professor of infectious diseases at Zhejiang University's School of Medicine, said researchers at home and abroad have been studying traditional medicine, including TCM, hoping to find alternatives to antibiotics to reduce bacterial resistance, but no significant progress has been made.
"For the present, the available TCM drugs cannot fight bacteria on their own and cannot treat infectious diseases effectively," he said. "They can play an auxiliary role at best."
"With further research and development of TCM drugs in the future, TCM drugs that can fight infections effectively may be developed," he said.
But related drug resistance cannot be ruled out for TCM.
Even if TCM drugs that can replace antibiotics are available in the future, it will be unknown whether they can cause bacterial resistance as antibiotics do until they are used on patients, he said.
Sun Jing, an associate professor of drug safety at the Chinese Academy of Medical Sciences and Peking Union Medical College, appeared more optimistic.
"Some TCM drugs produce effects such as anti-inflammation or anti-infection, and can be used as a substitute for antibiotics," she said.
"Some drugs, which mix both TCM elements and chemicals in Western medicine, are also used as antibiotics, but it is not clear whether the TCM elements or chemicals have produced the antibiotic effects," she added
More efforts are needed to encourage research on TCM to help bring down the use of synthetic antibiotics in reducing the effects of drug-resistant bacteria, she said.
"I cannot see TCM drugs totally replacing antibiotics in the future. Still, we can expect the use of antibiotics to be reduced with scientific research on potential alternatives," she said.
As many physicians know, misuse and overuse of antimicrobials is accelerating AMR development, "so regulating the use of antibiotics both in humans and particularly food animals is always the best effort in battling AMR," Xiao of Zhejiang University's School of Medicine stressed.
Worldwide, half the total antibiotics used each year are in China, with 52 percent of that used for food animals, according to the Review on AMR, a global report commissioned by the British government.