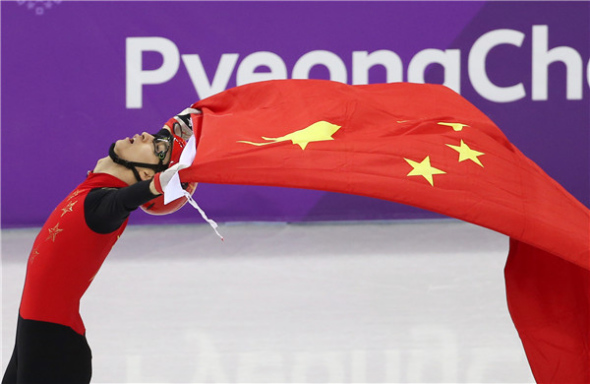 Wu Dajing celebrates victory after the men's 500-meter final of short-track speed skating at the 2018 Pyeongchang Winter Games in the Gangneung Ice Arena on Thursday. Wu claimed the gold medal and set a world record. (FENG YONGBIN/CHINA DAILY)
China's penalty-plagued short-track speed skating team finally turned the table in the high-drama competition in Pyeongchang when Wu Dajing won the men's 500-meter event at the 2018 Pyeongchang Winter Olympics on Thursday. [Special coverage]
Amid an intense atmosphere at the packed Gang-neung Ice Arena, Wu pushed off strong in the final, gaining an edge in the first corner. He expanded that to a clear lead midway through the race before finishing with a world-record time of 39.584 seconds, claiming China's first gold medal at the Pyeongchang Games in the Republic of Korea.
Wu's victory triggered a standing ovation from hundreds of Chinese spectators at the arena who flew red flags while clapping hard to celebrate the hard-fought win.
Riding on the momentum, Wu and his teammates added another silver medal in the men's 5,000m team relay, bringing the Chinese delegation its ninth overall medal in Pyeongchang.