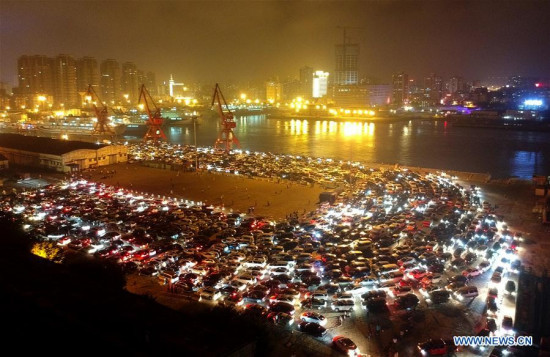 Vehicles wait for ferry service at Xiuying port in Haikou, capital of south China's Hainan Province, Feb. 21, 2018.(Xinhua/Zhao Yingquan)
Ferry services resumed Thursday on the Qiongzhou Strait, a major gateway to China's southernmost island province of Hainan, but time will be needed to clear the backlog of stranded vehicles.
As of 1 p.m. on Thursday, more than 11,000 cars were still waiting in or outside the three ports of Haikou, capital of Hainan, according to the local government.
The number increased from that in the morning as more cars joined the queues to leave Hainan for Guangdong Province via the Qiongzhou Strait.
Shipping services on the Qiongzhou Strait, between Hainan and Guangdong, were suspended Wednesday night due to low visibility caused by heavy fog. Over 100,000 passengers and more than 10,000 cars were stranded.
After visibility improved, shipping services resumed Thursday morning. However, there is still a backlog of vehicles waiting in Hainan as ferries are travelling slowly due to fog and ship collision incident in Guangdong.
A freighter and a passenger ship collided off the coast of Guangdong at about 12:46 a.m. on Thursday. The freighter sank and two people are missing. Rescue work is under way.
"We are working with the city of Zhanjiang in Guangdong to ensure the shipping route operates normally," said Gu Gang, executive vice mayor of Haikou.
Hainan, known for its tropical climate and clean air, is a popular destination for Chinese tourists taking winter holidays.
"It's the first time my family has travelled during the Spring Festival holiday. It's also an unexpected experience," said Fu Yingying, from Chongqing Municipality who drove with her family to Hainan.
The family of six left Wenchang and arrived at Haikou on Wednesday afternoon. They have been waiting in the long queue outside a port.
"Luckily, volunteers offered us water and food. Without them, it would have been very hard to get through last night," Fu said.
Volunteer Ma Suying told Xinhua that she can understand the irritable mood of some passengers. "But most stranded passengers are calm and polite," she said.
Haikou has set up 237 volunteer service areas for travelling families between Sunday and Thursday morning. Over 6,500 volunteers have offered help.
The Haikou city government advised vehicles heading to the ports to delay their plans. It also issued a notice Wednesday night, asking residents to take Thursday, the first working day after the Spring Festival holiday, off to alleviate traffic jams caused by the waiting vehicles.