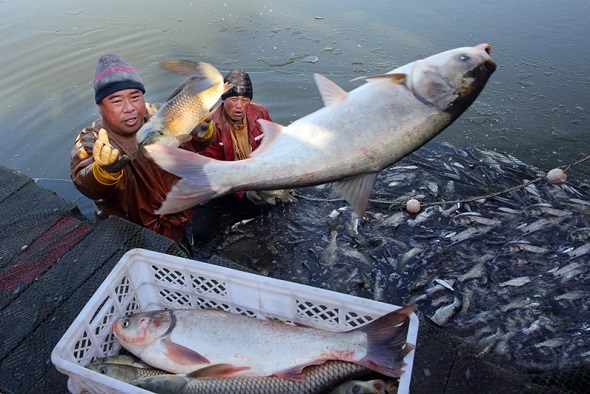 Fishermen harvest near the Yellow River in Dongying, Shandong province, in January last year. The river flows into the Bohai Sea at the city. (Zhou Guangxue/China News Service)
Maintaining stocks, protecting ecology main motives; violators may face criminal penalty
Fishing will be banned every year from April 1 to June 30 on China's second-longest river to protect its fishing resources and biodiversity, according to the Ministry of Agriculture.
The ban covers the main portion of the Yellow River, which extends more than 5,400 kilometers, as well as primary tributaries of its 13 major branches and three lakes that are connected to the river.
Provinces and autonomous regions through which the river flows have the option to extend the period of the ban within their jurisdiction, the ministry said.
Fishing for scientific research or for reproduction studies during the ban must get approval from fishing administrations at the provincial level or above, according to the announcement.
Violations can result in fines, confiscation of fish or fishing boats, and criminal penalties.
China has imposed a seasonal fishing ban on the Yangtze River, China's longest, since 2002. The ban has been extended to four months yearly since 2016, covering its main river and major branches and lakes connected to it. Similar bans are also carried out in other major rivers such as the Huaihe and the Pearl.
Some places along the Yellow River have already released regulations on fishing bans on the river to replenish fishing resources and protect the ecology.
The Ningxia Hui autonomous region, for example, has imposed a ban on its section of the Yellow River, covering 400 kilometers, since 2003. Last year, the ban lasted from May until the end of July, according to the region's agricultural bureau.
Sun Wenjing, a senior engineer in fishing technology at Gansu Fishing Technology Promotion Institute based in Lanzhou, Gansu province, said a fishing ban has been carried out in Liujiaxia Reservoir, located on the upper reaches of the Yellow River near Lanzhou, for about 10 years.
Last year, the Ministry of Agriculture handled 5,972 cases involving violations of fishing bans on inland waters in China, including the Yangtze River, the Pearl River, the upper reaches of the Yellow River and the Huaihe River, and sent 1,593 suspects to judicial organs, according to Zhang Xianliang, chief of the ministry's department for fishing industry and administration.