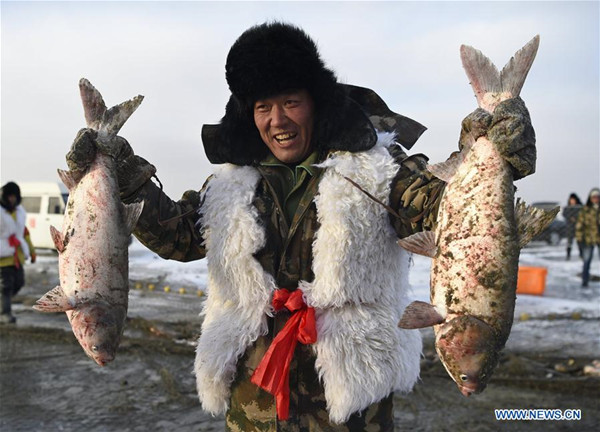 A fisherman shows fish during winter fishing at Wolong Lake of Kangping county, Northeast China's Liaoning province, Jan 23, 2018. (Photo/Xinhua)
Tour operators offer travelers new experiences via self-driven vehicle rides
For long, trains, planes or buses have been the preferred modes of transport of travelers in China. Now, there's another option: driving oneself around in four-wheelers, especially for sightseeing jaunts, long weekend getaways, short vacations, so on.
So much so tour operators are drawing up routes and itineraries to cater to this niche segment of road trip-lovers. For example, tourists to northeastern China, where snow and ice attractions abound, can drive along routes featuring hot springs, skiing and other winter pleasures.
One such tour started in Beijing on Jan 14. The eight-day driving extravaganza covering Heilongjiang province attracted 20 cars and more than 60 tourists from Beijing, Tianjin, Shanghai, Hebei and Sichuan.
They drove through three cities in the province-Harbin, Yichun and Heihe-before parking their cars on the China-Russia border. With official permits in pocket, they went beyond the border on a two-day trip to Blagoveshchensk in Russia's Amurskaya region.
In Yichun, home to China's largest red pine forests, they walked through the pristine forest and had close contact with some harmless animals like squirrels and sika deer.
"It was really an unforgettable memory," said Wang Jinghui from Beijing, who took part in the tour. "I haven't seen such heavy snow for many years. The fun in building snowmen together took us back to our childhood. The blue skies and fresh air were refreshing."
On the tour, the first stop was the Wudalianchi Scenic Area in Heihe. It has a series of volcanic lakes with mineral springs. The area is regarded as a health resort and a scientific research site.
After tasting local delicacies, the team enjoyed the hot spring in the hotel. The next day, they drove to the car-testing base, which was founded for cars' performance test in the winter in July 2015.
"Our club has a lot of opportunities for cooperation with automobile enterprises," said the tour organizer Ge Rong, manager of Beijing Orange Joy Club. "As I know, Heihe has long and extremely cold winter, making it the first choice for car owners and car companies to test the vehicles' performance in winter conditions.
"As a high-end club, most of our members pay attention to the quality of life. The good performance of their cars in snow and ice provided them an unprecedented driving experience."