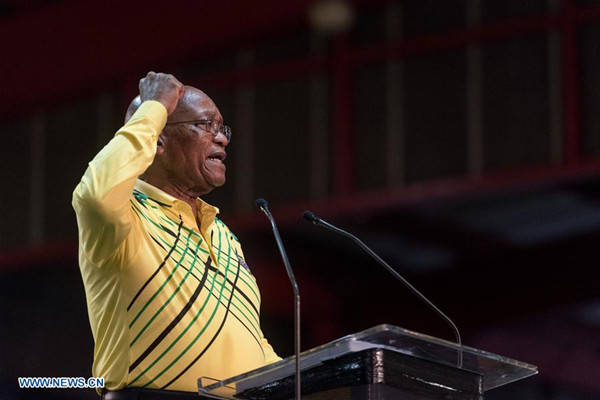 File photo taken on Dec. 16, 2017 shows that South African President Jacob Zuma addresses the conference in Johannesburg, South Africa. South African President Jacob Zuma declared his resignation when addressing the nation on Feb. 14, 2018. (Xinhua/David Naicker)
South African President Jacob Zuma resigned Wednesday evening under the pressure of the ruling party African National Congress (ANC).
Despite an earlier show of defiance, Zuma announced his resignation to the nation just an hour before the deadline set for him by the ANC, in an effort to avoid dividing the party.
"The ANC should never be divided in my name. I have therefore come to the decision to resign," Zuma said on Wednesday evening at Union Building in a 30-minute farewell address to the nation.
"No life should be lost in my name and also the ANC should never be divided in my name. I have therefore come to the decision to resign as president of the republic with immediate effect even though I disagree with the decision of the leadership of my organisation; I have always been a disciplined member of the ANC," he said.
He said he wished to be removed in line with the constitution.
"I must accept that if my party and my compatriots wish that I be removed from office, they must exercise that right and do so in the matter prescribed in the manner of the Constitution," he said.
"I fear no motion of no confidence or impeachment, for they are the lawful mechanisms for the people of this beautiful country to remove their president," Zuma said.
Zuma apologised to the nation for the errors committed during his term in office. Speaking in Zulu in his address, he said he believed he had performed the task given to him by the country, but where he had erred, "may I please be forgiven."
He said he would continue to serve the party and the country even after he resigned as the top leader. "As I leave, I will continue to serve the people of South Africa as well as the organisation I have served all my life. I will dedicate all my energy to work towards the attainment of the policies of our organisations, in particular the radical economic transformation agenda," he added.
Zuma's resignation ended two weeks of upheaval in the ruling party in which he had refused to step down after being asked to do so by the ANC's leadership.
The ANC, which replaced Zuma as party leader in December with Deputy President Cyril Ramaphosa, ordered him to step down as president on Tuesday over curruption allegations against Zuma.
Ramaphosa is now acting president, and he will be sworn in as president either Thursday or Friday.