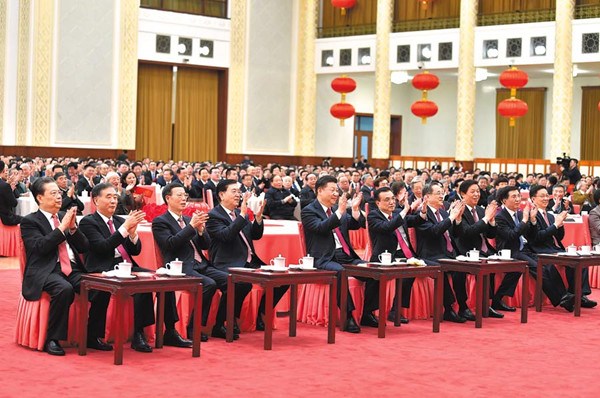 President Xi and top CPC and State leaders gather with guests at the reception. JU PENG AND LI TAO / XINHUA
President Xi Jinping called on Wednesday for diligence and hard work by people across the country to achieve national rejuvenation.
Xi, also general secretary of the Communist Party of China Central Committee and chairman of the Central Military Commission, extended Spring Festival greetings to all Chinese at a reception in Beijing on behalf of the CPC Central Committee and the State Council.
This year's Spring Festival, or Chinese Lunar New Year, falls on Friday.
Addressing the event, Xi spoke highly of the country's progress in 2017 in such areas as improving people's lives, advancing the rule of law, strict governance of the CPC and reducing poverty.
"Time is the most objective witness," Xi said while lauding achievements made last year. Those advances were obtained through the diligence and hard work of all Chinese people, he said.
The president highlighted the importance of diligence and hard work to complete the creation of a moderately prosperous society in all respects.
Those who bring happiness to the majority are the happiest, Xi quoted Karl Marx as saying, adding that the CPC will continue in its goal of bringing happiness to all Chinese people.
The 19th CPC National Congress held last year has set the direction for the country's development in the new era, Xi said, adding that this year is the first to implement the spirit of the congress and coincides with the 40th anniversary of reform and opening-up.
Xi called on everyone in the Party, the military and nation to unite around the CPC Central Committee and implement the spirit of the 19th CPC National Congress. The Party's policies and decisions should be translated into real benefits to the people, he said.
In his speech, Xi stressed the importance of the more than 400 million families in the country and their role in building a strong nation.
The Chinese people have always valued family, Xi said, adding that the country's prosperity is related to the happiness of every family.
Xi called on the country's more than 1.3 billion people to integrate their love of family and nation, thus to forge great forces to assist in the nation's rejuvenation.
Mentioning that the Year of Dog is always deemed auspicious, Xi extended his wishes that the country's well-being will become better and better every year.