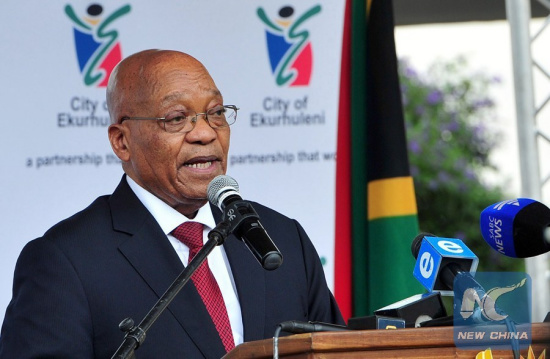 South African President Jacob Zuma speaks during the Chris Hani Wreath Laying Ceremony and handover of the Chris Hani heritage site in Boksburg, Gauteng Province, South Africa, on April 10, 2017. (Xinhua)
South Africa's ruling party, the African National Congress (ANC), on Tuesday confirmed that it will recall South African President Jacob Zuma.
ANC secretary general Ace Magashule said this when briefing the media in Johannesburg about the ANC's National Executive Committee (NEC) meeting on Monday night. He said the NEC resolved to recall Zuma and will brief Parliament caucus on Wednesday.
The party has been negotiating with Zuma to relinquish his post for some weeks. Zuma has been given until Wednesday to respond to the recall by his party. The decision to recall Zuma was taken by the NEC of the ANC which is the highest decision making body outside congress, according to Magashule.
"The NEC decided to recall its deployee, comrade Jacob Zuma... The decision to recall Jacob Zuma is final. That decision can't change. We are going to treat him with respect as one of the ANC leaders who contributed in the fights against Apartheid," said Magashule.
According to him, President Jacob Zuma agreed in principle to resign and proposed a notice period of 3 to 6 months.
Magashule said that Zuma had stated that he accepts what the party decides but requested for a period of three to six months before resigning. Zuma indicated that he is the current chairperson of BRICS and the Southern African Development Community.
However, the party decided that Zuma had to resign immediately, said Magashule.
"This is an urgent matter and it has to be treated with urgency. The NEC firmly believe that the situation requires us to act with urgency in order to steer our country towards greater levels of unity, renewal and hope. The ANC felt we can't wait for that period, it's too long," Magashule said.
Magashule added that the ANC NEC members would be visiting various parts of the country to inform the party structures about the decision, and that the ANC wants the ruling party president Cyril Ramaphosa to become the country's President.