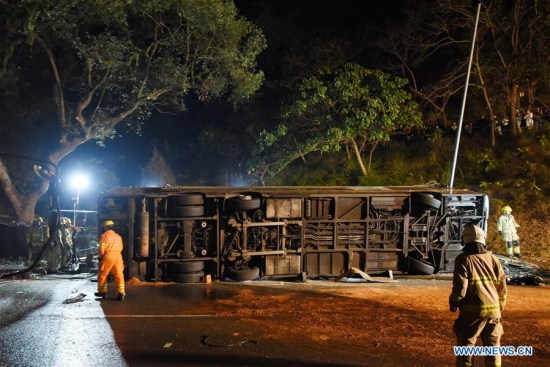 Rescuers work at the accident site where a double-decker bus overturned in New Territories in Hong Kong Special Administrative Region, south China, Feb. 10, 2018. (Xinhua/Wang Shen)
Driver of the bus involved in Saturday's fatal crash in Hong Kong appeared in court Tuesday, and prosecutors said they were considering a "more serious charge" against him.
A double-decker bus overturned Saturday evening on a road in the Tai Po district in the Hong Kong Special Administrative Region, killing 19 people and injuring over 60.
The driver was arrested Saturday night and was charged with causing death by dangerous driving on Monday night.
The driver, in his 30s, appeared in the Fanling Magistracy Tuesday morning, and was denied bail with the magistrate saying the case was "too serious."
The court was told that the driver is suspected to have been driving at 70 km/h down a slope when the bus toppled over at a bend in the road, local radio RTHK reported.
Prosecutors asked the court for more time for the police to take statements from more than 30 passengers and potential eyewitnesses, as well as for autopsy reports and investigation into the bus's tachograph.
Prosecutors said the police would seek further legal advice on whether the current charge against the driver was suitable.
The driver was due to appear in court again on April 10.