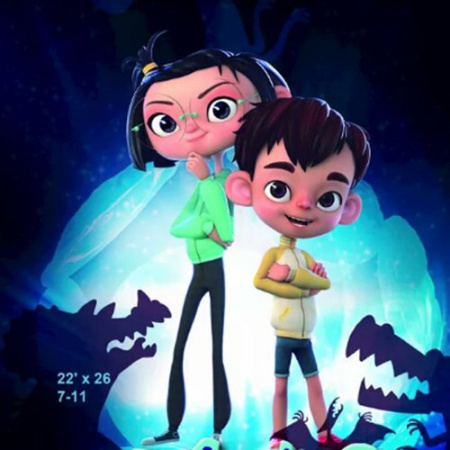 Promotional material for Kim & Jim's Wormhole (Photo/Courtesy of Wang Ying)
Boonie Bears: The Big Shrink ranked fourth at the Chinese box office over the weekend with two days' gross taking of 32.5 million yuan ($5.17 million), surpassing Hollywood blockbuster Maze Runner: The Death Cure and My Little Pony: The Movie, even though these rivals included Friday's takings for their final tally.
The production on the latest installment of the Chinese children's animation franchise was "at the top of Chinese children's animation," internet user Miaolege Mide wrote on Chinese rating website Douban. "Although it's not as good as the former one, it has plot breakthroughs."
"I applaud domestic animation this time, although the plot is similar to Honey, I Shrunk the Kids… It is not common for a Chinese animation to be a family film for both old and young and have a lot of laughing points… recommended," internet user Vivian posted on the website.
Over the past two decades, Chinese audiences have usually rated Chinese animation as too crude, childish and boring in comparison to its European, U.S. and Japanese rivals.
In response to consistent commercial failures, the Chinese government has invested heavily in domestic animation, supporting cooperative projects between Chinese animation studios and global entertainment organizations. Boonie Bears: The Big Shrink was Chinese animators Fantawild Animation's first cooperation with film and TV company Coloroom Pictures.
And late last month, Chinese animation studio Escape Velocity announced its collaboration with Jetavana Entertainment on two new domestic animation projects: Wool Wool Town and Kim & Jim's Wormhole, which will be aired by the end of 2018.
Chinese market
"I remember I watched both domestic and imported animations when I was very little and as I grew up I struggled to like Chinese animation," Liu Jie, a moviegoer in her late 20s, told the Global Times. She liked Chinese animations Black Cat Sheriff and Calabash Brothers and foreign cartoons like Ikkyū-san and Transformers.
Born in 2000, 18-year-old Wei Yunqin, says he too saw Black Cat Sheriff and Calabash Brothers, but he favored SpongeBob SquarePants, Shaun the Sheep and Naruto.
As foreign animation kept changing, Chinese animation seemed to get stuck, for decades. A lack of market management caused the 1980s bottleneck, according to a report on the Tencent web portal comic.qq.com.
"At that time, the only investment Chinese animation could receive came from the government, which created a shortage of capital throughout the industry," the report said.
"For a long time, the Shanghai Animation Film Studio represented almost the entire Chinese animation industry. Deadline delays, backward techniques, loss of talent - a number of issues were inherent."
Government support back then was no bad thing, says Wang Lei, founder of Escape Velocity, "but it was a completely different mode from a market-oriented industry that must turn a profit."
Quality loudest
Independent Chinese animation studios began to appear in the 21st century, according to blogger Huxiu.
As of 2015, the Chinese mainland has 730 registered animation companies. Animation went from filling 82,300 minutes of TV air time in 2006 to 134,000 minutes in 2015, reported publishing website chuban.cc.
In film, breakthrough works emerged such as Monkey King: Hero Is Back and Bonnie Bears. Monkey King: Hero Is Back was the best-selling animated film of 2015 on the Chinese mainland, with its total box office takings of 956 million yuan almost double Hollywood animation Big Hero 6 and the Japanese hit Stand by Me Doraemon the same year.
Among the top 15 Chinese mainland animated films at the box office, three are Bonnie Bear stories and six are Pleasant Goat and Big Big Wolf stories, popular TV hits that stepped up to the big screen.
Considering China's population, Wang believes animation can build a much bigger audience.
"Today's consumption of cultural products is diverse. People can watch a cartoon, film, video game or go to the theater. For increasingly choosey audiences, quality always comes first."
"What I mean is that Chinese audiences rarely watch domestic animation not because there is no market for it, but there are few works able to meet their demands for quality," he said.
In comparison to their international peers, Chinese animators still "have a big gap in concept, artistic level and technique," Wang says.
The only way forward is experience, he concludes.
"It was in his 40s when [anime maestro] Hayao Miyazaki established his reputation. He had been working on animation since college graduation and spent decades collecting experience," Wang says.
Many of today's best Chinese animators only just graduated, he noted.
"When we think of Chinese animation today, we should realize that the market is getting Balkanized whereas Chinese animation of old was for all ages and genders," Boonie Bears director Ding Liang tells the Global Times.
Chinese animators have started eyeing overseas markets. Boonie Bears invited 2 Broke Girls actress Beth Behrs to be its international ambassador, and Wang's Escape Velocity studio has started producing bilingual animations.
"The good thing is that we Chinese often force ourselves to be compared with the world's best in every aspect: in high-tech with the U.S. and with animation we also want to compete with the strongest," Ding says.