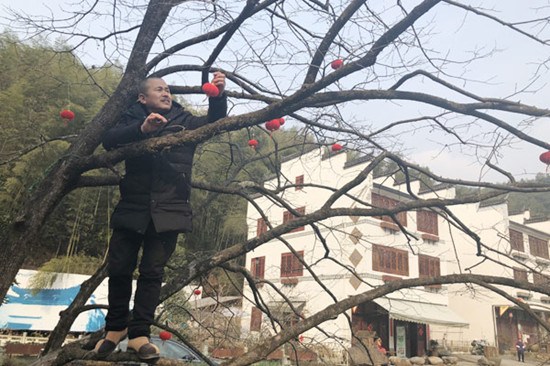 Xu Lianfa hangs red lanterns on a tree to mark Spring Festival. (Photo by Ma Zhenhuan/China Daily)
For bed-and-breakfast operator Xu Lianfa, a golden opportunity knocks just once-and he made sure he was there to open the door.
"Before 2009, all the homes here were old and made of mud. But after that, tremendous changes have taken place," said the 54-year-old owner of the Linhexuan B&B in Lishan village, Zhejiang province.
Back then, there were barely any roads in the village, and locals had to lug their bicycles on their shoulders to reach their homes in the hills.
The community's fate began to change in 2003 when Zhejiang launched a "beautiful villages" program to improve rural transportation and environmental protection in a bid to realize revitalization in the countryside.
In April 2009, Xu-then the village head-led residents to undertake a three-year village reconstruction project, building new houses while removing waste and trash. Now, the previously dilapidated homes have been replaced with rows of Anhui-style architecture featuring whitewashed walls, with neat roads and paths linking the residences.
With improved infrastructure, tourists began flocking in and were charmed by the scenic rural landscape and unique folklore cultures of the local She ethnic group.
Rural tourism became a key catalyst to the village economy, improving its per capita annual income from 4,600 yuan ($730) in 2012 to more than 25,000 yuan in 2016. The village is now home to 29 B&Bs, offering 445 beds.
The 400-square-meter Linhexuan B&B has 10 rooms and raked in a net income of over 100,000 yuan within three months after opening in October, far beyond Xu's expectations.
"What's more, all the rooms during the upcoming Spring Festival have been booked," he said, adding that he is confident of earning over 300,000 yuan this year through his B&B.
Xu said President Xi Jinping's "lucid waters and lush mountains are invaluable assets" theory is proving a big boost to the village's tourism business.
"Over the past two years, the number of tourists visiting the village has skyrocketed," he said.
In January, a bus route was launched, offering tourists wider accessibility. "Now buses can bring passengers directly to the village, which will definitely bring more tourists for rural leisure tours," Xu said.
"I'm thinking of launching a new program that enables tourists to experience the folklore customs of the She ethnic group, as I believe this will bring more tourists to my B&B," he added.