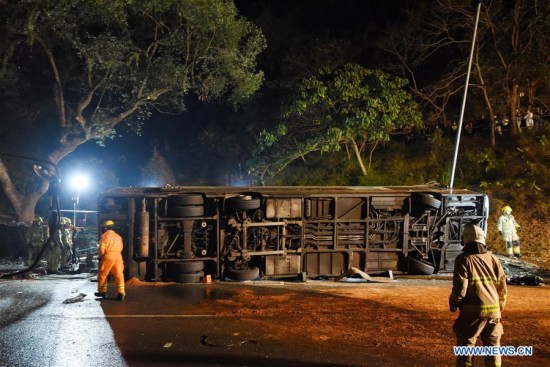 Rescuers work at the accident site where a double-decker bus overturned in New Territories in Hong Kong Special Administrative Region, south China, Feb. 10, 2018. (Xinhua/Wang Shen)
The Chinese central government sent a letter expressing condolence and sympathy to the families of victims of a bus crash killed 19 and injured dozens more in Hong Kong Saturday.
"We feel deep grief over the severe traffic accident," read the letter sent by the Hong Kong and Macao Affairs Office of the State Council.
"We noticed that the Hong Kong Special Administrative Region government has taken emergency measures to rescue the injured with all available resources and deal with relevant issues," it said.
The central government expressed deep condolences to all the victims, sympathized with their relatives, and hoped the injured could recover soon.
The accident happened at around 6:15 p.m. local time, when the bus on its way to Tai Po from Shatin racecourse toppled to its left on Tai Po Road, New Territories, destroying a bus station on roadside.
Most of the passengers were horse racing fans, as the bus was travelling on a special route for horse racing days.
Police said the 30-year-old driver of the bus was arrested.
The accident was the deadliest one in Hong Kong since 2003, when 21 people were killed after a double-decker bus plunged off a flyover following a collision with a container truck.