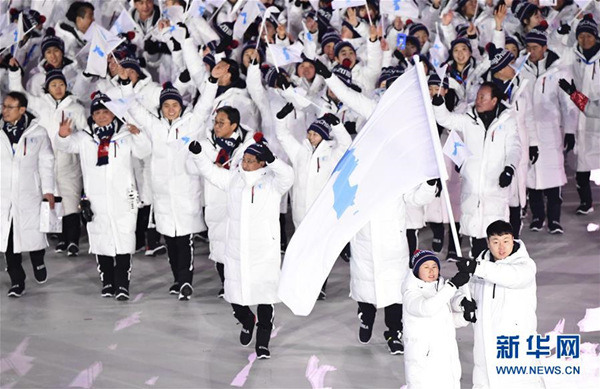 (Xinhua photo)
Athletes from South Korea and the Democratic People's Republic of Korea (DPRK) marched together under a unified Korean flag at the opening ceremony of the 23rd Winter Olympic in South Korea's eastern county of PyeongChang on Friday.
Dressed in long, white padded jackets, they followed the flag with a blue silhouette of the Korean Peninsula against a white background. The athletes also held and waved smaller unified flags aloft in their right hand, smiling in front of thousands of spectators.
The spectators included South Korean President Moon Jae-in, Kim Yong Nam, president of the Presidium of the DPRK Supreme People's Assembly, and Kim Yo Jong, the younger sister of DPRK's top leader Kim Jong Un.