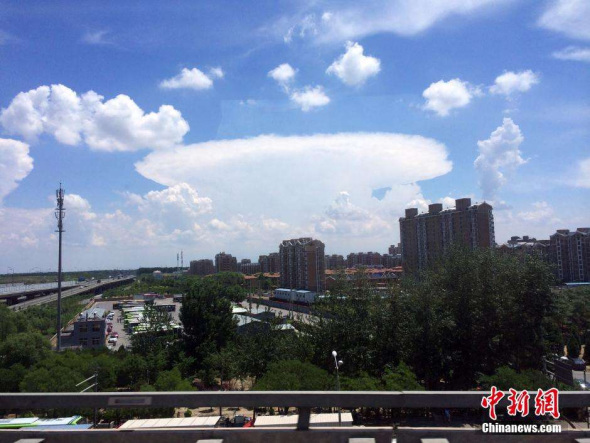 File Photo/China News Service
The average concentration of PM 2.5 last month in Beijing decreased by more than 70 percent year-on-year and reached a low of 34 micrograms per cubic meter, said Beijing's environmental authority.
It's the first month that Beijing had an average concentration of PM 2.5-hazardous fine particles measuring 2.5 microns in diameter or smaller-which was lower than the national standard safe level of 35 mcg per cu m since measurements began in 2012, the Beijing Municipal Environmental Protection Bureau said in a statement.
Beijing usually sees its worst air quality in the fall and winter because of coal use for heating in the capital and its surrounding regions. The statement said January was the capital's first month in autumn and winter without a single day seeing severe air pollution since 2013.
"The improvement is extremely hard to make as it is even lower than the last monthly low of 38 mcg per cu m last summer," said Xin Lianzhong, a senior forecaster of the bureau.
He also said the good air quality in the capital is expected to continue until Feb 14.
"Governments' long and effective efforts to curb emissions of air pollutants is the root reason for the improvement," the statement said.
Governments of Beijing and its surrounding regions have been taking a series of measures, including reducing the use of bulk coal and heavy trucks, and closing and upgrading small, poorly-managed polluting enterprises, to control air pollution, it said.
Emergency measures such as production suspensions were introduced in these regions when they were hit by air pollution from Jan 12 to 17 because of unfavorable meteorological conditions preventing the dispersal of pollutants, it said.
The improvement is also partly attributed to the frequent and strong north winds and low humidity and temperatures, it said.
China Meteorological Administration said on Wednesday that the meteorological conditions in the northern part of the country will turn unfavorable for the dispersal of pollutants after middle of this month.
"As the cold air weakens after the middle of this month, air pollution will increase," the administration said.