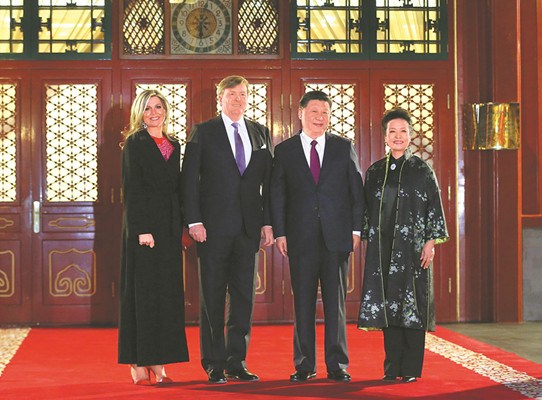 President Xi Jinping and his wife, Peng Liyuan, meet on Wednesday with King Willem-Alexander of the Netherlands and Queen Maxima in the Zhongnanhai leadership compound in Beijing. (WU ZHIYI/CHINA DAILY)
Cooperating on Belt and Road Initiative to bring opportunities
The China-Netherlands relationship stands at a new starting point with fresh opportunities for development, and it is hoped the two countries have more cooperation this year through the Belt and Road Initiative, President Xi Jinping said on Wednesday.
Xi made the remark as he and his wife, Peng Liyuan, met with visiting Dutch King Willem-Alexander and Queen Maxima at the Zhongnanhai leadership compound in Beijing.
King Willem-Alexander said the Belt and Road Initiative will bring more opportunities to the Netherlands and his country is ready to participate in the co-building of the Belt and Road.
The king's two-day visit to China concludes on Thursday, ahead of the Spring Festival.
He offered festive greetings to Xi and to the Chinese people and voiced his hope for new achievements by China in the New Year as well as new progress in his country's relationship with China.
Currently, the Netherlands is China's third-largest trade partner in the European Union and China has been the country's second-largest trade partner outside the EU.
About 300,000 Chinese tourists travel to the Netherlands each year, and the country was one of the founding members of the China-led Asian Infrastructure Investment Bank.
Xi said the relationship has entered its best stage of all time, with the two sides respecting each other's core interests and major concerns. He said their political mutual trust is deepening.
Fruitful outcomes have been brought by cooperation in various areas, such as investment, trade, innovation and culture, Xi said.
The king told Xi that the Netherlands will participate in the first China International Import Expo.
The expo, the first of its kind to be held by a major country, is scheduled to open in November in Shanghai.
The Netherlands looks forward to strengthening cooperation with China regarding international and regional affairs, the king said.
Through a strong two-way relationship, the Chinese president and the Dutch king have exchanged visits in the past few years.
During Wednesday's meeting, Xi recalled his state visit to the Netherlands and said the consensus reached with the king and the outcomes yielded during the visits have been translated into reality.
Also on Wednesday, Premier Li Keqiang met with the king and said China is ready to boost cooperation with the Netherlands in sectors such as agriculture and port logistics and management.