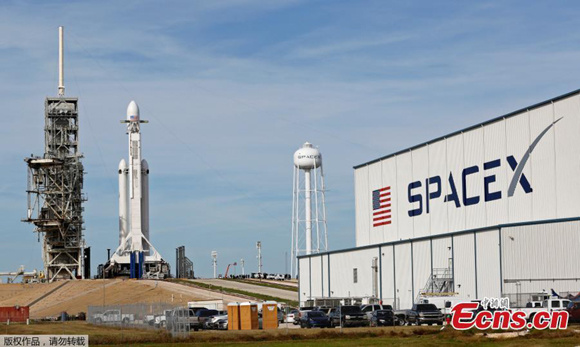 SpaceX is set to launch its long-awaited Falcon Heavy rocket — described as "the most powerful operational rocket in the world by a factor of two" —from Kennedy Space Center in Florida, Feb. 6, 2018, with a 2.5-hour launch window. Thousands of excited viewers are already lining up along the Florida coast to witness the event. The rocket will be carrying a red Tesla Roadster. (Photo/Agencies)
The private U.S. space flight company SpaceX on Tuesday launched the world's most powerful operational rocket into space in a much-hyped demonstration mission deemed to have the potential to bring a revolution in the space industry.
The Falcon Heavy blasted off from the Kennedy Space Center in the U.S. State of Florida at 3:45 p.m. EST (2145 GMT), carrying something just for fun: a red Tesla Roadster belonging to SpaceX and Tesla founder Elon Musk.
So far, everything has gone as planned, with the rocket's two side boosters landing simultaneously back on ground about eight minutes after liftoff.
Eventually, the rocket's second stage will try to place the Roadster, playing David Bowie's Space Oddity, into a Mars-adjacent orbit.
"We estimate it'll be in that orbit for several hundred million years, maybe even in excess of a billion years," Musk told reporters during a media call.
LOW EXPECTATIONS
The tech billionaire has repeatedly played down expectations for the launch, saying that the mission might end in explosion.
"This is a test mission as I said there's so much that can go wrong, so we don't want to set expectations of perfection," he said.
"I would consider it a win if it just clears the pad and doesn't blow the pad to smithereens."
Musk admitted that there's a chance that the rocket's second stage might not make it out of low-Earth orbit.
That's because it will "coast" for six hours through the Van Allen radiation belt, where it may "get whacked pretty hard," he said.
DOUBLING LIFT CAPACITY
The Falcon Heavy is essentially three of the company's Falcon 9 rockets bolted together.
With a total of 27 Merlin engines, it's capable of generating "more than 5 million pounds (2.3 million kg) of thrust at liftoff, equal to about eighteen 747 aircraft," according to SpaceX.
Only the Saturn V moon rocket, last flown in 1973, delivered more payload to orbit.
The rocket will be able to lift 64 tons into orbit, doubling the lift capacity of the next closest operational vehicle, the Delta IV Heavy, at one-third the cost, the company said.
Jason Davis of the Planetary Society hailed the demo flight as "a huge deal, even for a spaceflight company that routinely accomplishes huge deals."
"An operational Falcon Heavy will make SpaceX the proud owner of the most powerful rocket system since the Saturn V, and opens up yet another corner of the launch industry to serious competition," he wrote in a blog article.
Eric Stallmer, president of the U.S. Commercial Spaceflight Federation, said the successful launch "represents a momentous milestone for SpaceX and the commercial space industry, as the first heavy lift launch vehicle developed and launched with fully private funding."
"As we look forward to all that 2018 holds for the U.S. commercial space industry, this is an exciting way to kick off the new year," Stallmer said in a statement.
GAME OVER FOR COMPETITORS
For this test flight, Falcon Heavy's two side boosters are both "flight-proven." One launched the Thaicom 8 satellite in May 2016 and the other supported the International Space Station mission in July 2016.
In order to bring reusability to a whole new level, SpaceX tried to recover all three of Falcon Heavy's first stages during the test.
A livestream showed that the two side boosters have successfully landed back at Cape Canaveral Air Force Station.
The fate of the middle one, which was set to land on a drone ship floating in the Atlantic Ocean, was unclear, because the video signal from the drone ship was lost.
Rocket reusability could significantly bring down the cost of launching Falcon Heavy, thus attracting potential customers.
"We're able to offer arguably super-heavy-lift, or nearly super-heavy-lift capability, for not much more than a Falcon 9," said Musk.
"If we're successful in this, it is game over for all the other heavy-lift rockets."