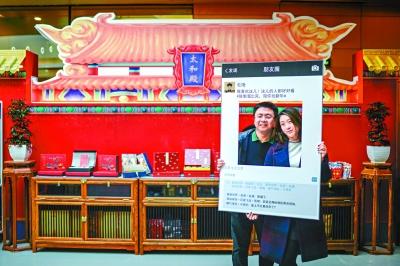 (Photo/Beijing Daily)
A pop-up store featuring creative souvenirs from the Palace Museum opened in Beijing's Sanlitun shopping area earlier this week, aiming to promote traditional Chinese culture.
Inside the modern building, the vivid red and yellow shop catches the eye. Snacks, jewelry, stationery, accessories as well as books are on sale in the temporary store, which will run until March 4 to celebrate the upcoming Spring Festival.
The Palace Museum has released a number of hit products with cute characters and modern slang in recent years, which can also be found at the store. For example, visitors can scan a QR code featuring an emperor that says, "There is always a beloved subordinate that wants my WeChat account," as well as mugs saying, "I really don't know how to care about you."
Flash retailing, or pop-up retail, originated in early 2000s in the US as an effective way to test the market and make campaigns at a relatively low cost. Store owner Chen Weiguo told Beijing Daily that the pop-up shop is designed to appeal to the young generation and promote culture.