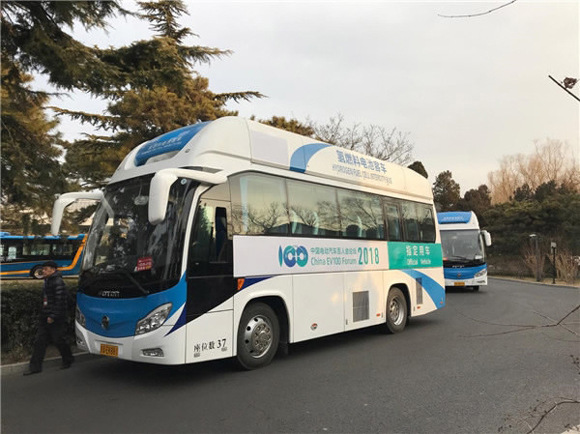 An electricity bus powered by a hydrogen fuel cell (Photo/Xinhua )
It's full speed ahead in China when it comes to the development of electric vehicles and the roads on which they travel.
To get a sense of where smart technology is headed, look no further than a so-called "intelligent" road in Shanghai which President Xi Jinping has positioned as a global innovation center.
The technology allows driverless "new energy vehicles," or NEVs to communicate with each other through sensors embedded in the road.
The cars can retrieve data about elements of the driving environment, including pedestrians and streetlights.
The idea is to create a greener environment, safer experience and better traffic flow.
"The key to intelligence lies in safety while networking is important for efficiency," said Rong Wenwei, board chairman of the Shanghai International Automobile City. "So the next decade will be one for redefining products, reshaping commercial models and recreating the consumption culture."
Construction is underway on the road which is now nearly 10 kilometers. The plan is to expand it to 150 by 2020.
China has already sped ahead of the pack in the world green car industry. According to the China Association of Automobile Manufacturers, China saw sales of new NEVs spike to 777,000 in 2017, up more than 50 percent from the year before.
"Our goal is to have 600,000 new energy vehicles by 2020 in the transportation sector," said Liu Baohua, vice director of the National Energy Administration. "We will promote and apply the intelligent management system of urban public transport and extend urban bus routes to suburban areas."
The government is encouraging demand by offering incentives like tax rebates and hopes reducing the costs of NEVs will fuel their popularity over traditional vehicles down the road.