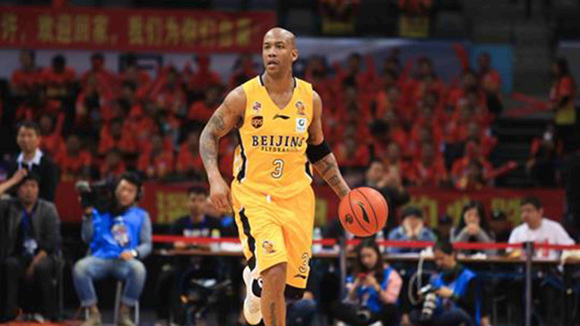 Stephon Marbury (Photo/Video screenshot from CGTN)
The Beikong Fly Dragon was looking to qualify for the playoffs this season after landing former NBA All-Star Stephon Marbury. But the team lost Jordanian forward Zaid Abbas through injury in the last game and will have to sit down with the veteran guard on his final year in basketball.
Since joining the Chinese Basketball Association (CBA) in early 2010, Marbury has played in three cities. But it was in Beijing where he finally found a home. However, the 40-year-old New Yorker announced last year his plans to retire from basketball after this year's CBA season.
He played 13 years in NBA before heading to China, where he's captured three championships with the Beijing Ducks.
Outside the playing court, Marbury also achieved a lot in China. In 2015, he obtained a 300-square-foot museum devoted to his career called "The House of Marbury" in Beijing, and he had purchased the Beijing Lions of the China Arena Football League last year.
Marbury said he's evolving the younger generation, help them change their minds and improve with experiences.
The American has stayed in China for nearly eight years, and he is the fifth American basketball player to receive a green card. "I love Beijing, this is my home," said Marbury. He thought it is an amazing experience to fit in a new platform, new place, and new life with different food and culture.
Marbury said he's become more open minded, especially after he played basketball in different countries, under different cultures. Those experiences help him see things differently. He would like to tell his experiences to inspire other people.