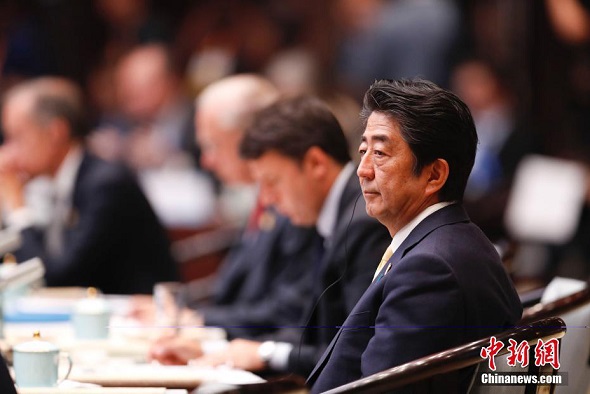 Japanese Prime Minister Shinzo Abe (File Photo: China News Service/Du Yang)
Japanese Prime Minister Shinzo Abe's attendance at the Republic of Korea-hosted Winter Olympics would not change the tense situation in East Asia, although Tokyo intends to win the support of Seoul, said Chinese experts.
Abe on Wednesday said he would attend the opening ceremony of the Pyeongchang Winter Olympics, scheduled to open next month.
The decision came after relations between Tokyo and Seoul looked as if they might be turning frosty again.
Li Chengri, an expert from Chinese Academy of Social Sciences, said Abe's sudden announcement intends to bring the ROK to its side.
"Japan wants to show it's attaching great importance to the ROK, since its top leader will go to Pyeongchang. And by doing so, Tokyo also wishes to improve the US-Japan-ROK cooperation mechanism," Li said.
Seoul-Tokyo ties remained strained as Abe has yet to apologize for and acknowledge the Japanese government's legal responsibility for Imperial Japan's wartime sex slavery.
Abe also said on Wednesday that he was willing to hold talks with the ROK's President Moon Jae-in, and he would reiterate Japan's position regarding a bilateral deal reached between Tokyo and Seoul in 2015 that was supposed to settle the comfort women issue.
Lu Hao, a researcher at the institute of Japanese studies of the Chinese Academy of Social Sciences, said Abe's decision to visit Pyeongchang shows that Japan still places the improvement of the relations between the two countries as a priority on its diplomatic agenda, but neither side is willing to make concessions on the comfort women dispute.
"The talk cannot solve or improve the weak political mutual trust long-existed between Japan and the ROK. Especially when the differences on the issue of comfort women between the two sides are obvious. Unless there is a substantive compromise put forward, Japan's so-called 'Winter Olympics diplomacy' can hardly expect any significant results," he said.
Under a landmark bilateral deal struck in December 2015 under the government of Moon's predecessor Park Geunhye, both countries agreed that the comfort women issue, that had led to diplomatic ties between both countries becoming significantly strained, would be "finally and irreversibly" resolved.
However, Moon had stated that while it is "undeniable" that the (comfort women) deal is an official bilateral agreement, the "erroneous knot" with Japan over the issue must be untied by Tokyo apologizing to the victims.