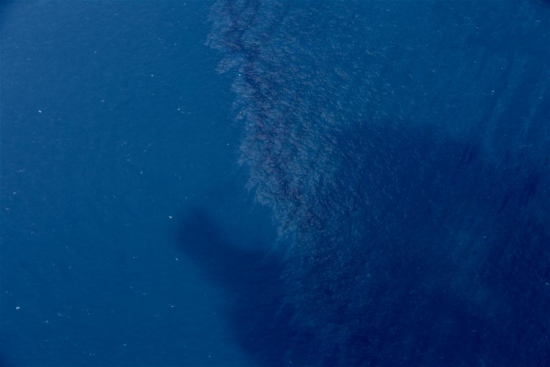 Aerial photo taken aboard surveillance plane of the State Oceanic Administration (SOA) shows the oil spill on the water surface around the sunken Iranian tanker Sanchi in the East China Sea, Jan. 15, 2018. (Xinhua/Liu Shiping)
China's maritime authority has detected several oil slicks in the East China Sea, close to the location where an Iranian tanker sank one week ago.
The State Oceanic Administration (SOA) said in a statement Sunday that a 5.4-km-long, 1.4-km-wide oil slick was seen about 5 km northwest of the tanker's location.
The SOA said a day earlier that a 4-km-long, 400-meter-wide oil slick was sighted about 5 km southeast of the tanker's location.
Satellite data showed three oil slicks totalling about 332 square kilometers within the monitored area. The largest measured about 328 square kilometers.
The SOA will continue to monitor the situation and provide updates.
The Panama-registered, Iranian-owned oil tanker Sanchi, carrying 113,000 tonnes of light crude oil, collided with the CF Crystal, a Hong Kong-registered bulk freighter, about 300 kilometers east of the Yangtze estuary on Jan. 6 and sank on Jan. 14.
The 32 crew members onboard the tanker -- 30 Iranians and two Bangladeshis -- were lost.