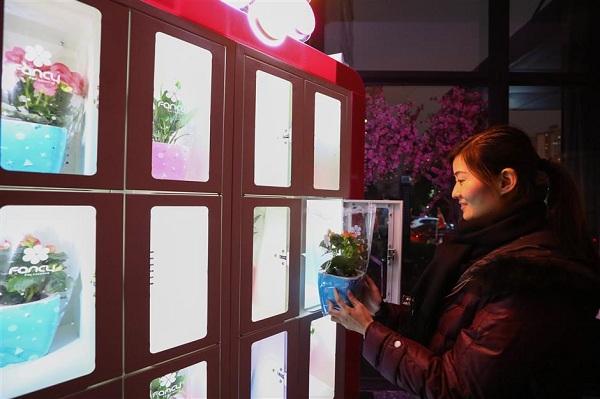 A Fancy staff member adjusts a display of flowering plants ahead of the trial run. (Jiang Xiaowei/SHINE)
The sharing economy is beginning to expand from citizen's basic needs, such as bicycles and umbrellas, to adding a little beauty to their everyday lives.
The Fancy company is placing cabinets dispensing flowering pot plants in office buildings for an upcoming trial run. The cabinets allow customers to rent pot plants for 3 yuan per month (5 US cents) and change them whenever they want. Anyone not good at looking after the plants can simply put them back and take a new one. The company will attend to maintenance before the next customer.
The cabinet has the plants behind glass doors. After a customer fills out a form and pays a 50-yuan deposit via an app, they can type in an order number or scan a QR code to open a door and take a plant.
Li Yize, chief operating officer of Shanghai Daduo Information & Technology Co, said the idea of a flower sharing service came from Fancy's founder Chen Zhijie, whose wife loves flowers.
"Chen's wife loves flowers and often asked for him to go with her to flower shops and markets. He found the flowers seem to have a magical effect on his wife — when she is with flowers or doing floristry, she feels refreshed and gets rid of all the unpleasant memories on her work," Li told Shanghai Daily. "So he came up with idea of letting more people enjoy the beauty and pleasure brought by flowers in their office with lower cost."
A survey showed there was a demand for the service, especially with the closure of flower-selling sites such as the Caojiadu Flower Market.
Chen has been involved in charity work in impoverished areas across China, and poverty-stricken regions in Shandong, Fujian and Yunnan provinces are supplying the plants.
"We hope the users can feel love and peace with our flowers and get back their passion on work."
At a building on Yan'an Road W. in Changning District, one of the Fancy cabinets caught the eye of a number of office workers passing by.
"I think the girls in my office should like such service as they like to put flowers on their desk," said a man surnamed Xi, 36, "And it's really cheap."
However, a 36-year-old woman surnamed Yang expressed concern about the deposit as she had heard of problems with bike sharing companies not returning deposits. "But I still feel that it's good to have more and more sharing products or services. If there are some pretty flowers I like, I'll try this service."
Li said Fancy has entrusted banks to look after users' deposits and there would be no problems. "We have set very detailed plans before launching this program."
Li said their team didn't worry too much about the service's future and the first step was to attract consumers. "We are planning to introduce more kind of plants like succulents and doing some festival events."
Last year, Premier Li Keqiang said in a meeting that the sharing economy had fostered many new types of businesses and created numerous jobs. He urged authorities to pay great attention to the role of the sharing economy in driving economic and social development.
The sharing economy offers convenience — but can also come with some problems.
One was the "overloading" of bicycles on city streets. In September last year Shanghai cleared away more than 500,000 shared bicycles after the city's transport commission issued a ban on introducing new bikes on the market to control fierce competition between bike-sharing companies.
Last year we saw the demise of several bike-sharing companies and a few other car-sharing or power-bank-sharing service suppliers, while some of those remaining are struggling to survive.
One of the more bizarre services, sex doll sharing app Taqu, was banned.
Gu Jun, a sociology professor at Shanghai University, warned that the sharing economy should serve the demand of the public and not capitalists.
"Currently, many such products are run with capital behind and don't really consider the resident's needs, that's why we see excessive shared bikes occupying our pavement," Gu said. "The real sharing economy is to share people's idle resources with others via the Internet and not to create something and put them into the market."