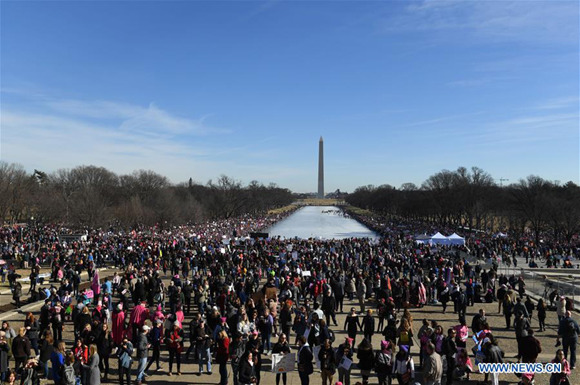 Demonstrators rally near the Lincoln Memorial Reflecting Pool and Washington Monument during the Women's March in Washington D.C., the United States, on Jan. 20, 2018. Tens of thousands of people gathered here demanding for women's rights on Saturday. (Xinhua/Yin Bogu)
Hundreds of thousands of people took to the streets in North American cities over the weekend in this year's Women's March to fight for women's empowerment and their legitimate rights.
In the U.S. capital of Washington D.C., the Women's March returned Saturday as a sequel to last year's rally under the same name hitting all major U.S. cities on Jan. 21, 2017, the day after U.S. President Donald Trump's inauguration ceremony.
Thousands of demonstrators gathered at the Lincoln Memorial before noon, holding placards denouncing Trump's policies and calling for gender equality.
"It's just so important for all the people to show support for all the people that are just trying to defend our rights... we have an administration that looks like it's really adamant about rolling back people's civil rights now more than ever before," a protester named Janel Fersythe told Xinhua.
In Los Angeles, many of the demonstrators wore pink hats and flocked to the downtown area with signs that read, "Women hold up half the sky," "Defend Women's rights," "The future is female," and "A new day is on the horizon," and so on.
Some Hollywood stars also showed up for the event, including Natalie Portman, Eva Longoria, Olivia Munn, Scarlett Johansson, and Viola Davis, among others.
"This march and this movement is far more ambitious in scope and scale and it extends beyond one political actor or even one political party," Longoria, who is best known for her role as Gabrielle Solis on the American Broadcasting Company (ABC) television series Desperate Housewives, said at the rally.
"What we're calling for is sustainable and systematic change to the experience of women and girls in America," she added.
Eric Garcetti, mayor of Los Angeles, wrote on his official Twitter account: "Today, we bore witness to the testimonials of incredible women at the #WomensMarch2018. Women like @ViolaDavis -- who stood up, spoke out, and shared their truth."
"600,000 strong," the mayor tweeted after the event.
San Francisco -- northern California's cultural, commercial and financial center -- attracted the largest number of demonstrators in the U.S. west region around Saturday noon.
The protesters held placards that expressed their desire for gender equality, women's rights and criticism for Trump's words and policies on immigration and ethnic minority groups.
Acting Mayor of San Francisco London Breed also showed up and tweeted shortly afterwards: "We will not silently sit back as the Fed Gov continues to push an agenda that stigmatizes women's rights, LGBTQ communities and immigrants. #HearOurVoice."
In Oakland, about 18 km northeast of San Francisco, police estimated more than 30,000 people shouted and streamed through downtown Oakland.
The march proceeded peacefully as police officers were in place to keep order and police helicopters were hovering in the air to monitor the situation down below.
Across the states to the east coast, in New York City (NYC), the protest started in front of the Trump International Hotel & Tower by Central Park. Demonstrators pointed their fingers directly at Trump's policies.
"I have little respect for President Trump," Mclean of New Jercy told Xinhua, "He stands against women, abortion, immigration...quite frankly he stands against what America stands for."
"We want social justice, we want Dreamers to be able to stay here, we want childcare, we don't want money only to go to military, the big companies," said another protester Lou Sones.
Andrea Hagelgans, a senior advisor to the NYC mayor, tweeted that the official turnout was more than 120,000.
"This is about us showing that we are out here to protect the values of our constitution," Hagelgans said, "To honor the rights, to respect the rights of so many people. Mexicans, immigrants, Haitians, Africans."
Even in the United States' northern neighbor Canada, when university student Nathalie Lee told her parents she was attending the Next Step March in Vancouver on Saturday to support diversity, inclusiveness and positivity, they responded by asking: There's another one this year?'
"Yes," Lee replied to her parents before coming once again to Jack Poole Plaza in the western Canadian coastal city on the anniversary of the international Women's March. "Equality still hasn't been reached," she said, while holding a sign that read "Fight Like a Girl."
On Saturday, Lee was among about 1,500 other women, men and children at the event hosted by the March on Vancouver organization.
The event here aimed to maintain the grassroots momentum that has taken hold around North America to resist white nationalism, misogyny and xenophobia and to stand-up for women, girls, indigenous peoples and minorities of all types.
Women's March 2018 is part of a worldwide protest to advocate legislation and policies regarding women's rights, immigration reform, health care reform and racial equality.
It came less than 24 hours after the U.S. government shut down and around Trump's one-year inauguration anniversary.
"Beautiful weather all over our great country, a perfect day for all Women to March. Get out there now to celebrate the historic milestones and unprecedented economic success and wealth creation that has taken place over the last 12 months. Lowest female unemployment in 18 years!" Trump wrote on his Twitter.