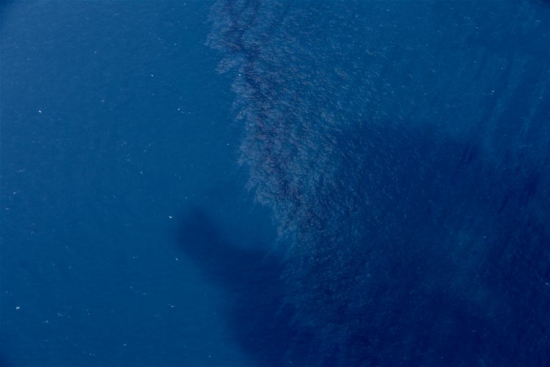 Aerial photo taken aboard surveillance plane of the State Oceanic Administration (SOA) shows the oil spill on the water surface around the sunken Iranian tanker Sanchi in the East China Sea, Jan. 15, 2018. (Xinhua/Liu Shiping)
Unmanned submersibles will be sent to inspect the sunken wreckage of the oil tanker Sanchi, which was located on Tuesday morning after a sweeping survey of the area.
Issues concerning possible oil leaks and pollution are under control, the Ministry of Transport said on Wednesday.
The wreckage was found at a depth of 115 meters in the East China Sea off the coast of Shanghai. The survey showed the vessel has a break on its right side, 60 meters from the bow. Nothing abnormal was discovered in the surrounding area.
The Shanghai Salvage Bureau will send underwater robots to the ship to continue the salvage work, the ministry said.
A thin film of oil can be observed northeast of the wreckage. Two more vessels have joined the oil cleanup.
The ministry said 13 vessels have been coordinated by the Shanghai Marine Rescue Center on Tuesday to join the contingency action responding to the accident.
Units and vessels involved are responsible for imposing a curfew near the collision site, releasing warnings in Chinese and English, intensifying surveillance over the oil belt, keeping contact with Japanese and Korean vessels, and searching in locations requested by the Iranian rescue center.
On-site monitoring will be intensified and the cleanup work will be continued, according to the ministry.
Sanchi, an Iranian oil tanker registered in Panama, was carrying 136,000 metric tons of highly flammable condensate oil when it collided on Jan 6 with a Hong Kong-registered cargo ship 160 nautical miles east of Shanghai.
The Iranian ship exploded and sank on Sunday afternoon, eight days after it burst into flames.
The Sanchi had 32 crew members-30 Iranians and two Bangladeshis. So far, three bodies have been discovered while the other 29 remain missing.