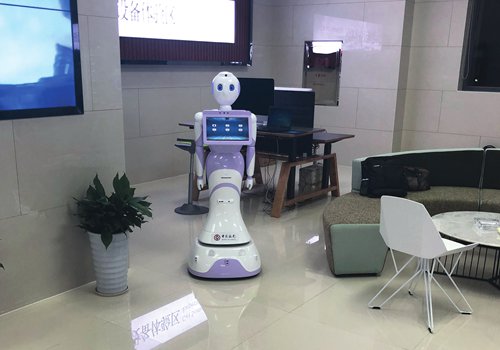 Upgraded bank robots with more human-like features have already hit the market in China. (Photo/Courtesy of Guo Hongguang)
For many, the experience of queuing up in a bank waiting for service is anything but entertaining. But that is no longer the case for Mrs Liu, a Beijing local in her 50s, as she has recently picked up a new interest when she goes to the bank in her community on Lincui Lu, Chaoyang district - chatting with a little robot named Jiaojiao.
"I have never talked to a robot before. It is so much cuter and more intelligent than I expected," laughed Liu, after being told how to apply for a credit card and asked for a hug by the robot.
The one-meter tall robot, Jiaojiao, has been working as a lobby manager assistant at a local branch of Bank of Communications for months.
Her daily work is to greet guests and offer inquiry services and customer guidance.
With a child-like voice and a unique sense of humor, it has won many customers' hearts.
Jiaojiao is the first robot introduced by Chinese banks, followed by a series of other robots since 2015.
As AI technology penetrates every aspect of the finance sector, robots have become a new force in the service team and now, almost every big bank in China has its own robot team member, such as "Ying Ying" for Bank of China, "Xiao Long Ren" (Little Dragon Man) for China Construction Bank and "One" and "Xiao Min" for China Minsheng Bank.
As technology advances and the robots' systems and "intelligence" upgrade, the robots are bringing more fun and efficiency to the public.
Having fun at the bank
"Hi, I want to have a pancake. Can you help?"
"Wow, you got me. I have never had any food before. All I have is electricity; would you like me to share some?"
A burst of laughter fills the room.
Liu and another customer are playing with the robot while they wait in the lobby. Talking with Jiaojiao, Liu feels the time she spends at the bank is full of fun.
"The robot helps relieve pressure and anxiety for customers while they wait, especially when the queue is long," said Yang Meng, vice manager of the Lincui Lu sub-branch of the Bank of Communications. Rather than turning to consultant services, people are more interested in chatting and playing with the robot, Yang said.
Sometimes Jiaojiao will also move to the waiting area to entertain others when there are many people there. Apart from talking, the robot can also sing and perform some dance moves. Meanwhile, Jiaojiao also adds fun and pleasure to the staff's working routine. The robot will move to the recharging area automatically at noon and after getting off work. Those are the times when it often acts like a spoiled child.
"Hi, beautiful sister, I walk too slowly; would you please carry me over there?" "Hi sister, I am too tired; would you please hug me?" These are some sentences it often says to the staff on the way to the charging spot, and it is hard to say no to its cute requests, said Yang.