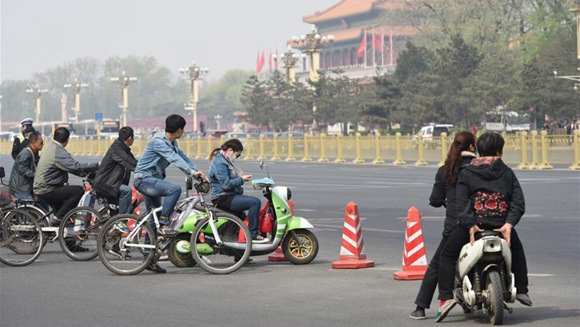 People riding electric bikes wait at a traffic light. (Photo/CGTN)
China has decided to put a brake on speed limits and enhance safety standards for electric bikes in a bid to control road accidents.
Globally, electric bikes, primarily admired for their low carbon footprint, have been under severe criticism for causing a large number of road accidents. Last year, New York announced a crackdown, while Singapore also adopted a similar approach.
In recent months, Beijing kept these bikes off the main roads but allowed it on arterial roads. On Tuesday, China formulated national electric bicycle safety technical specifications to enhance safety standards for such bikes.
The draft for the safety standards of electric bikes is open for public consultation for the next 30 days.
According to the safety report prepared by the Ministry of Industry and Information Technology, in the last five years, around 56,200 road accidents involving electric bikes were reported. These accidents caused 8,431 deaths and more than 63,500 injured.
Apart from casualties, these bikes also led to 111 million yuan (about 17.2 million US dollars) in direct property losses in the past five years. Cheap electric bikes are also causing fires, which have led to public outrage.
Electric bikes are the backbone of delivery services in China. /Reuters Photo
Officials maintained that in the absence of effective regulation, electric bikes in the recent months have become heavier and faster.
The current legislation puts a cap on the speed limit of electric bikes at 20km per hour and its weight at 40 kg. But a large number of bikes have a speed of more than 40 km per hour and a weight exceeding 70 kg.
The new standard proposed by the government recommends a speed cap of 20 to 25 km per hour with a weight of 40 to 55 kg including the battery.
There are comprehensive suggestions for adopting fire-resistant, flame-retardant, and better overall design to curb incidents of fire and road accidents.
Electric bikes manufacturers have been given one month to phase out bikes that do not meet the new safety standards.
China has the world's highest number of electric bikes with 200 million currently out on the roads. They are especially popular among commuters and delivery persons. The country manufactures more than 30 million electric bikes annually.