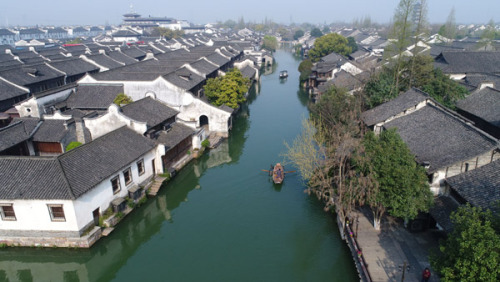 A man rows a boat on a river in Wuzhen water town in Zhejiang province last year. (Photo by LIANG ZHEN/FOR CHINA DAILY)
Suzhou has released a water town protection and conservation guideline in support of a joint application by 14 Chinese water towns in the lower reaches of the Yangtze River to become a UNESCO World Heritage Site.
The guideline, which will become effective on March 1, sets a standard to preserve ancient water towns in Suzhou. The city is heading the application as it is home to nine water towns included in the joint application.
The application, first started in 2001 by six water towns in Jiangsu and Zhejiang provinces including Zhouzhuang, Tongli and Wuzhen, has now expanded to include 14 water towns.
As the application is expected to be evaluated by international experts in 2020, the guideline released on Jan 3 will serve as a legal framework for the preservation of water towns to meet the standards as a world heritage site, according to Li Jie, director of the joint application office based in Suzhou.
The guideline states that restoration of ancient buildings should use the same materials and techniques as those used when they were built, prohibits overexploitation and encourages residents to continue their long-observed traditions.
Bridges, narrow stone lanes and traditional ancient houses built along canals are the physical features of Chinese water towns, while local traditions such as festivals, handicrafts and foods are their cultural features, some of which have a history of more than 1,000 years.
Most water towns are located on the eastern side of Taihu Lake in the Yangtze River Delta where the land is interlaced with rivers and canals, supporting numerous prosperous small water towns.
Ruan Yisan, a professor from Tongji University who specializes in historical town preservation, said on a forum held in Zhouzhuang that the unique human habitat of water towns serves witness to the preservation of Chinese cultural traditions amid the country's modernization.
Six Chinese heritage sites-including the Forbidden City, the Great Wall, the Mogao Caves in Dunhuang, Gansu province, and the Mausoleum of the First Qin Emperor in Xi'an, Shaanxi province-were listed by UNESCO in 1987.
The number grew to 52 after three decades, ranking second in the world. Italy tops the list with 53 as of the end of 2017.