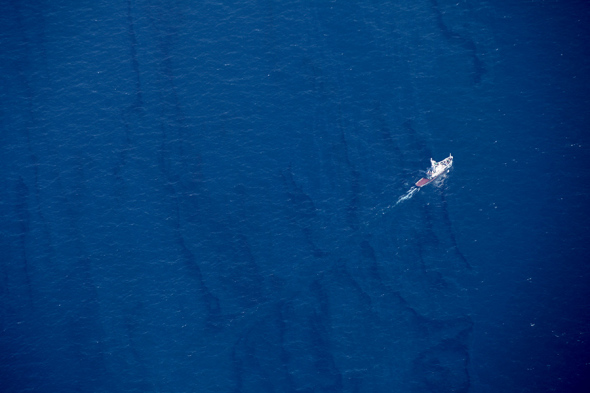 The Sanchi ship exploded and sank on Sunday. A large amount of the spilled condensate continued to burn on the sea's surface until Monday morning. (Photo/Xinhua)
Tanker's sunken hulk could keep spewing waste, damage seabed
The raging fire that resulted from the sunken oil tanker Sanchi burned out in the East China Sea on Monday morning, but the surface area covered by the oil spill has widened, according to reports.
China Central Television reported that the fire died out just before 10 am on Monday.
Only three bodies of the 32 missing crew members have been recovered, the Ministry of Transport said.
The Panama-registered Sanchi, which was owned by an Iranian company and carried 136,000 metric tons of highly flammable condensate oil, or natural gas liquids, collided with a Hong Kong freighter, CR Crystal, on Jan 6 some 160 nautical miles east of Shanghai and burst into flames.
On Sunday, the ship exploded and sank. A large amount of the spilled condensate continued to burn on the sea's surface until Monday morning, according to the State Oceanic Administration.
An oil slick measuring 10 nautical miles by 1 to 4 nautical miles could be observed visually. It has grown several times since Sunday, CCTV reported.
A cleanup effort on the sea's surface has begun and rescue teams have reduced the scale of the search for survivors, CCTV said.
On Sunday evening, the State Oceanic Administration said the oil slick is 10 kilometers long and 1 km wide.
Lu Kang, spokesman for the Ministry of Foreign Affairs, expressed his condolences to families of the deceased and said China will keep close communication with Iran on the matter.
"According to Iranian media reports ... based on Iran and Chinese official's opinions, all crew members were dead an hour after the collision due to the massive explosion and release of toxic gas on the ship. The result is mournful," he said on Monday at a news conference.
Iranian media quoted the chief of Iran's maritime agency, Mahmoud Rastad, as saying there was no hope of finding survivors among the 29 crew members still missing.
Officers planned to intensify monitoring and assess its environmental impact, the administration said.
China Youth Daily quoted experts saying that the ship should be kept from hitting the seabed when putting out fires. Otherwise, they told the paper, oil will be leaking at the seabed, polluting deep water and the sediment, which could cause decades of impact to nearby marine life.
The Sanchi's crew comprised 30 Iranians and two Bangladeshis. Two bodies were found on Saturday, and one was discovered at the collision site on Jan 8, according to the Transport Ministry. The cargo ship's 21 crew members all were rescued.
According to Reuters, strong winds had pushed the oil tanker away from the Chinese coast and its waters and into Japan's exclusive economic zone.