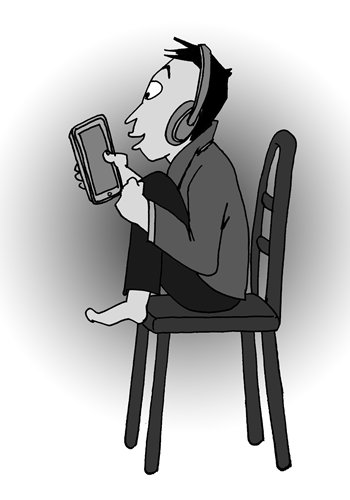 (Illustration: Luo Xuan/GT)
I am not a fan of online games. So, I didn't expect to become addicted to a simple online game when I tried Jump Jump, an online game on the WeChat platform that went viral overnight in China at the beginning of 2018.
You just open your WeChat, slide down the main menu and there you go. You can play the game without the need to download anything. The game itself is dead easy; you just jump onto different boxes to gain points. The little chess piece that represents you will bend like a spring when you put your finger on the screen and jump when your finger leaves. It's all about estimation. Once you finish and get your score, you can challenge others by simply sending the link to their WeChat.
Challenged by one of my friends, I started to play it in my spare time during the New Year holidays. I thought the game was simple and childish, but the next thing I knew I had spent almost the whole holiday on it. The game hooks people in a smart psychological way that I just found hard to resist.
First, it connects real-life friends. Attached to WeChat, the game provides a natural and solid social media basis where you play with your whole social circle. Looking at the game itself, you might think it is childish, but you would change your mind when you find that everyone else you know is playing it, including your parents, elderly cousins, old friends, even your bosses. It is a shared experience that people enjoy together. Your score and ranking are shown on WeChat and updated live once anyone creates a new record.
Second, it encourages people to win and keep on trying. Losing a game feels bad, but it feels worse when the game seems simple. One of my friends spent every night last week playing Jump Jump because his friend kept challenging him every time he made a new record.
The difficulty of the game grows after scoring a certain number of points, which adds much uncertainty to one's final performance. After much back and forth, his friend finally called the challenge to an end when both of them got close to 400.
There are also hidden shortcuts for earning points in the game. For example, if you jump on the music box and the music starts to play, it would automatically give you an extra 30 points, and jumping on the center of the box in succession would earn you a double score each time. The more you play it, the more shortcuts you can find, and it feels good to see your score multiply and surpass that of your friends on WeChat.
It's said that the game got 4,000 million users in China within three days after it launched online, and after playing it for a week, I can totally understand why it became a hit.
Oh, hang on, another challenge is coming in! I'm about to take it.