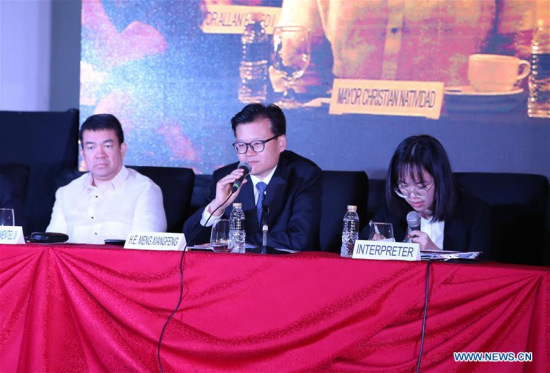 Meng Xiangfeng (C), deputy director of the General Office of the Communist Party of China (CPC) Central Committee, introduces the 19th CPC National Congress held in October 2017, in Manila, the Philippines, Jan. 11, 2018. (Xinhua/Yuan Mengchen)
A Chinese delegation wrapped up its three-day visit to the Philippines Thursday, briefing President Rodrigo Duterte on the spirit of the 19th National Congress of the Communist Party of China (CPC).
The delegation, headed by Meng Xiangfeng, deputy director of the General Office of the CPC Central Committee, met with Duterte, who is also chairman of the Philippines' ruling PDP-Laban (Democratic Party -- Power of the Nation) party, other political leaders and people from various communities. The briefings were conducted in capital Manila and Davao city.
The attendees hailed the achievements and significance of the congress, especially the global significance of Xi Jinping Thought on Socialism with Chinese Characteristics for a New Era, which was a highlight of the congress.
They also lauded the actions taken by the CPC to comprehensively strengthen discipline in the party. They said they are willing to learn from China's experience of governing the country and deepen the bilateral relationship to benefit the two peoples.
The 19th CPC National Congress, held in Beijing in October, drew the blueprint for China's development in the next 30-plus years. At the first plenum of the 19th CPC Central Committee, Chinese President Xi Jinping was re-elected as general secretary of the CPC Central Committee.