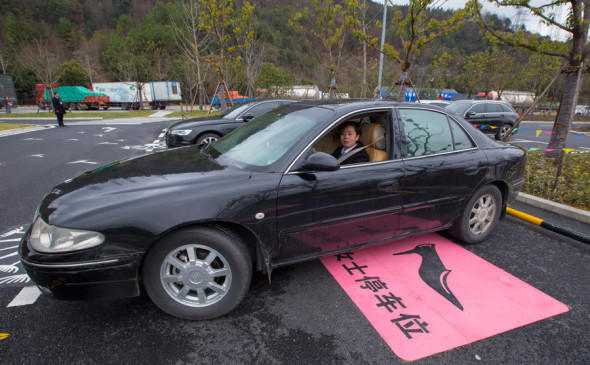 A female driver parks her car in a woman-only parking spot. (Photo by NI YANQIANG/FOR CHINA DAILY)
Emblazoned with a black high-heel shoe on a pink background, extra-wide parking spaces for women have sparked debate about sexism on social media.
The parking spots at the Jiande and Tonglu highway service areas in Zhejiang province are 1.5 times the size of normal spaces, with the color and icon indicating "women only".
"It's significantly larger, and I find it a very considerate design," said Yang Xin, a female driver who recently got her driver's license.
However, Sina Weibo has been awash with debate over women's parking spaces, with many contending that the spots perpetuate the stereotype that women are bad drivers.
"This is utterly sexist. Parking depends on driving skills, not gender," said a netizen called "Youyouzizi".
Yet many female netizens were on board with the spots, saying they just showed concern for those in need and that branding them gender discrimination was an overreaction.
According to a survey on Sina Weibo, 63 percent of 1,700 respondents said it was a good idea to designate female-only parking spaces.
Fang Hongying, manager of the Jiande highway service area, said the women's only parking spots were introduced in October, and driving skills were only part of the reason behind them.
"The women's parking spaces are closer to the exits and monitoring systems, which is more convenient for female drivers to take a break or go shopping in the main building, and much safer, especially at night," she said.
A woman-only parking spot in Zhejiang province. (Photo by NI YANQIANG/FOR CHINA DAILY)
Chen Jianguo, an associate professor of sociology at North China Electric Power University, said, "If it could be called a parking space for new drivers, the discrimination label could be shrugged off."
A number of priority seats, corridors and subway carriages for women have appeared in public venues in Chinese cities in recent years. Women's security checks have also been opened at airports in Beijing, Shenzhen, Wuhan and Guangzhou, as security workers say that the special lanes can improve efficiency and protect the privacy of female passengers.