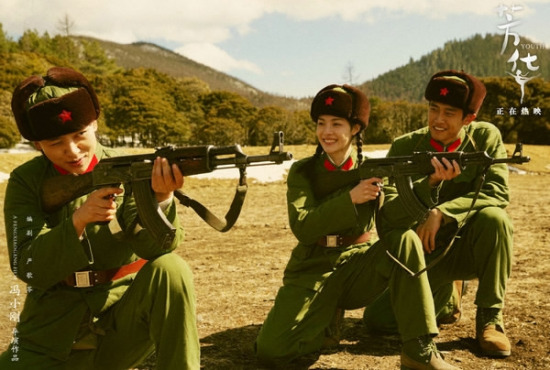 Poster of "Youth" /Xinhua Photo
As one of the most recognized directors in China, Feng Xiaogang has achieved many blockbuster successes in different genres. His new film, "Youth" has once again scored with Chinese film buffs. And this time, "Silver-hair" – people of the last generation become the majority of fans since the film has resonated with their youth.
Focuses on ordinary people living with a huge historical background, some people think Feng is the chronicler of times. Feng said: "We will stick to the direction of realism, and tell stories of Chinese people as always."
Based on Yan Geling's same-name novel, the nearly two-hour film "Youth" depicts a People's Liberation Army dance troupe during the Cultural Revolution. Leading roles –idealistic Liu Feng (Huang Xuan) and newcomer He Xiaoping (Miao Miao) received disdainful treatment gives the film a tragic color.
Since its release, "Youth" did not only make in the top ten hit list of Chinese-language movie but also developed a new group of audiences: the film attracts many elders who barely go to movie theaters.
According to Xinhua, the elder audiences "Youth" attracts has increased 17 percent of the viewing data, and increased 20 percent of the cinema income.
Many young people take their parents to see the film: "Finally a movie suit for them, my parents were so touched by it, my mom even cried during the film, she said many of the plots reminded her of her own youth."
Talking about the most difficult scene, Miao Miao, who played the part of He Xiaoping shared her experience of solo dancing in highlands.
Graduated from the Beijing Dance Academy, Miao Miao is a brilliant dancer who has many experiences, but this time, because of the high altitude sickness, she had breathing difficulties, which made her stop several times to uptake oxygen.
Despite all the hard works, Miao Miao claimed that it has always been her dream to dance in a film, and "Youth" made her dream come true.