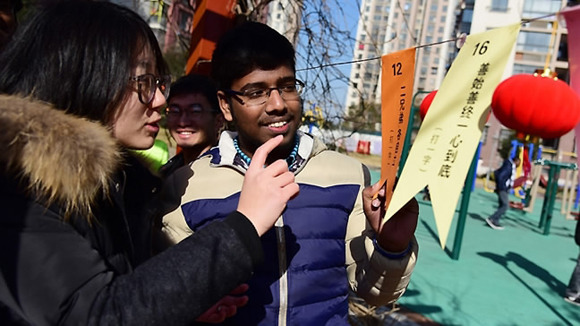 (Photo/CGTN)
Ashwini Deshpande first came to China in 2012 as a student of Mandarin language at Ningbo University, Jiangbei District in China's Zhejiang Province.
A native of Pune city in India's western state of Maharashtra, Deshpande said she was fascinated by Mandarin "because of the characters and writing pattern – calligraphy" and that led to her looking for academic options in China.
Following the completion of her course, Deshpande went back to India for a short work stint, but soon returned to Beijing, where she now works as a marketing professional. "I came back for work here because I knew the language and there are great opportunities here. Also, I think the work culture is much more free and casual," she said.
Deshpande is among the thousands of Indian students who have been drawn to China in recent years, as the country emerges among the top education destinations for international students.
According to the latest data, there are now more Indian students in China than in the UK, which has traditionally been among the top choices, along with the US and Australia. The number of Indian students in China stood at 18,171 compared with 18,015 in the UK, The Times of India newspaper reported, citing figures for the year 2016.
A study by the Center for China and Globalization (CCG), which analyzed the latest trend in studying abroad worldwide and within China from 2016 to 2017, ranked India among the top countries sending students to China.
"In 2016, driven by the Belt and Road Initiative (BRI) and other open-up policies, more international students have been enrolled in Chinese higher education institutions. Especially, those from Thailand, India, Pakistan, Indonesia and Laos have increased more than 20 percent on average. This has significantly reduced China's deficit in international education, and given China a more important role in globalization and global governance," stated the CCG report, which was released in December.
The Chinese advantage
China last year also became the third most popular choice for international students, just behind the US and the UK, according to figures released by China's Ministry of Education.
The CCG study, which was released last month, cited "the rising deglobalization represented by US President Donald Trump's election victory" [and his policies] along with the concerns over "Brexit" as the reasons behind the slump in the growth in the number of international students bound for the US and the UK, traditionally the most popular destinations for international students.
There are several reasons why China is successfully increasing its ranks among Indians. "I think people prefer China more nowadays because the cost of education is cheaper here than the UK or the US. Many of the Chinese universities are now ranked in the top 150 globally. The infrastructure and facilities in China are wonderful. It's very safe and as an Asian country, people value and respect each other's culture," Deshpande told CGTN Digital, listing out some the advantages China has for students.
In recent times, China has opened its doors to international students and the country's status as an economic superpower makes it more lucrative as a job market, she said, adding: "Also, China is closer to India when compared with the UK or the U.S., which makes it easier to travel."
Chinese universities have become increasingly popular with international students, with their numbers rising from 52,150 in 2000 to 442,000 in 2016, according to China's Ministry of Education. More than half came from Asia, with the next biggest source being Africa.
South Korea, the U.S., Thailand, Pakistan and India comprise the top five countries, in that order, sending students to China. "When this decade opened, China was not on most students' radar; now, having made rapid strides in the unlikely field of higher education, it is attracting several thousand foreign students every year. Most of them are studying humanities, followed by medicine," The Times of India report stated.