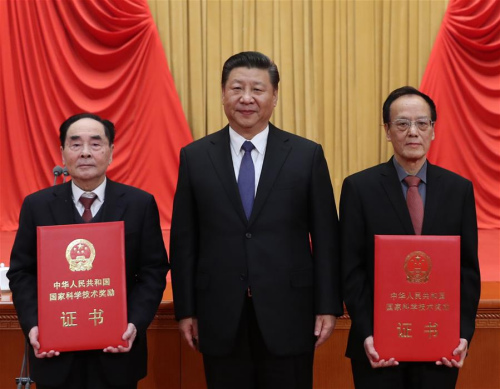 Chinese President Xi Jinping (C) poses for a photo with explosives expert Wang Zeshan (R) and virologist Hou Yunde, winners of China's top science award, at the National Science and Technology Award Conference in Beijing, capital of China, Jan. 8, 2018. (Xinhua/Ju Peng)
Two Chinese scientists, explosives expert Wang Zeshan and virologist Hou Yunde, won China's top science award Monday for their outstanding contributions to scientific and technological innovation.
President Xi Jinping presented award certificates to them at an annual ceremony held in Beijing to honor distinguished scientists and research achievements.
He shook hands with them and offered congratulations.
Other leaders, including Li Keqiang, Zhang Gaoli and Wang Huning, were also present.
Monday's ceremony honored 271 projects and nine scientists with national prizes.
Seven foreign scientists won the International Science and Technology Cooperation Awards.
On behalf of the Communist Party of China Central Committee and the State Council, Premier Li Keqiang extended congratulations to the prize winners and thanked foreign experts for their support to China's science and technology development.
While addressing the ceremony, Li called for more scientific and technological research in major disease prevention and control to improve people's well-being.
He said that more efforts should be made in food safety and pollution control to enable people to live a better life.
Li called for building China's strength in science and technology and urged increasing basic scientific research, diversifying investment in research and development, boosting integration of basic and applied sciences and enhancing innovative ability.
The Premier said China would pursue international cooperation in science and technology and take a more active role in the global innovation network.
"We welcome all kinds of talented people to join China's innovation and entrepreneurship campaign and share the development opportunities and achievements of innovation," he said.
Vice Premier Zhang Gaoli presided over the ceremony, which was attended by about 3,300 people.
Before the ceremony, Xi and other leaders met with representatives of the winners.
Also on Monday, Vice Premier Liu Yandong met with the seven scientists from the United States, Britain, Uzbekistan and Sweden who have won the International Science and Technology Cooperation Awards, and presented the medals to them.