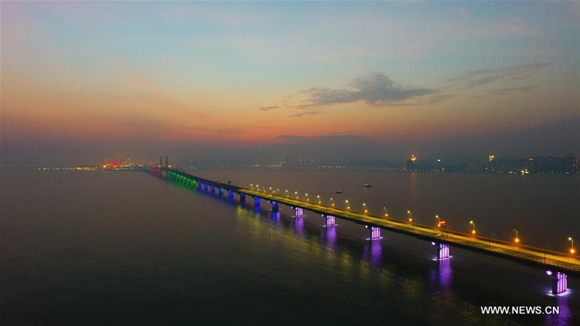 Aerial photo taken on Dec. 30, 2017 shows an artificial island of the Hong Kong-Zhuhai-Macao Bridge, south China's Guangdong Province. (Xinhua/Liang Xu)
Precise date depends on construction of port facilities in Hong Kong, Zhuhai
The Hong Kong-Zhuhai-Macao Bridge will open in the second quarter this year, people familiar with the matter told China Daily.
Although a precise date has not been fixed, the bridge will start services officially around May to June, according to the sources.
The final commissioning date will partially depend on the construction progress of port facilities in Zhuhai and Hong Kong, the sources said.
The Macao checkpoint is more likely to be completed earlier considering its rate of progress, according to the sources.
Meanwhile, policies for cross-border traffic have yet to be reached among the governments of the Hong Kong Special Administrative Region, Guangdong province and the Macao SAR.
This includes the details of the cross-administration management mechanism like customs arrangements, emergency rescue plans and cross-border car insurance arrangements.
The central government will confirm the date later, according to the sources.
Recently, chief engineer of the HZMB Authority Su Quanke said that all work on the principal section-a 29.6-kilometer bridge-island-tunnel complex-is expected to be completed in early February and the contractors will conduct an official handover ceremony.
Except for the principal section, the bridge also consists of ports and link roads in Zhuhai and the Macao and Hong Kong SARs. Those works are conducted by the respective governments.
The 55-kilometer bridge, 20 times the length of San Francisco's Golden Gate Bridge, connects Hong Kong in the east of the Pearl River Estuary with Macao and Zhuhai in the west.
Construction on it began in 2009. Once operational, it will shorten the four-hour drive from Hong Kong to Zhuhai to less than an hour and become the first completed infrastructure project built and managed jointly by the governments of Guangdong province, Hong Kong and Macao.