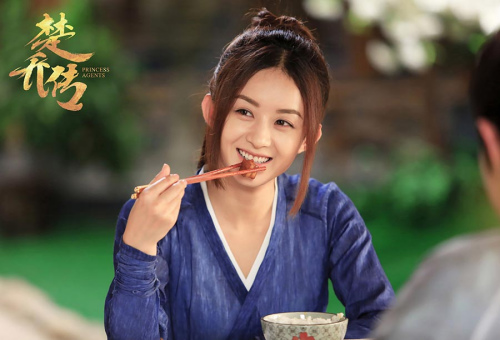 A scene from Princess Agents, which set a record for YouTube views at nearly 3 billion. (Photo provided to China Daily)
Chinese television producers are finding that showing their wares online is a surefire way of attracting eyes and bringing in cash.
A television drama series centered on the lives of five women in the dog-eat-dog world of contemporary Shanghai has been an eyeopener for Dmitry Ivanov.
"Understanding Chinese women isn't easy. Ode to Joy has helped, giving me an insight into issues that young people, especially women, face in China," says Ivanov, 27, who has a Chinese girlfriend.
In fact the Russian software developer found the two-season, 97-episode drama so compelling that he has watched it, complete with English subtitles, twice online.
Ivanov, who says he regards Chinese dramas more as cultural lessons than as entertainment, plans to expand genres to look more at Chinese history. Next on his list is the 44-episode historical series Growling Tiger, Roaring Dragon, based on true stories of the third century politician Sima Yi.
Ivanov's enthusiasm is typical of a new wave behind the growing popularity of Chinese television productions in recent years.
On popular video sites such as YouTube, Viki and DramaFever, hundreds of Chinese dramas with subtitles in foreign languages are attracting countless viewers whose comments range from admiration for the cast to discussion about plotlines.
China is one of the largest producers of television and online content, producing at least 400 dramas a year, with half of them being sold overseas, the Beijing news magazine Vista says.
In addition, at least 213 internet series were aired last year, five of them attracted more than 4 billion views, says a report issued recently by Chinese tech giant Tencent, proprietor of the social media app WeChat.
The State Administration of Press, Publication, Radio, Film and Television says that in China more than 1,600 domestic movies and television productions have been translated into 36 languages over recent years, including English, French, Russian, Spanish, Arabic and Portuguese, and they have been or are being aired in more than 100 countries.
Overseas markets have become a pivotal part of Chinese producers' business plans, as well as a significant platform to demonstrate the country's soft power, industry analysts say.
China earned about $100 million selling domestic screen productions overseas last year, says You Xiaogang, head of Chinese Television Drama Production Industry Association.
"That figure is the mere equivalent to the revenue of two popular TV series in China. That means there is still huge potential for Chinese dramas and movies overseas."
You, himself a television drama producer, believes the expansion of Chinese imports will also bring opportunities in the age of the internet.
Video-streaming sites have much larger capacity and more options for viewers than do television channels, which face one obvious hindrance: the clock.
Top streaming sites in the United States are now extremely interested in Chinese content and are in talks with Chinese companies about distribution deals, You says.
"With the rise of new media, new chances have sprung up, and this will reshape the overseas sales of videos produced in China."
The Chinese online blockbuster drama Day and Night, which Netflix bought recently - its first purchase of a Chinese internet drama - is emblematic of the changes that are now underway.
Made and released by videostreaming service Youku, which is owned by the internet giant Alibaba, the 32-episode detective drama centers on the twin brothers' efforts to clear the younger of the two on charges of murdering a family of five.
Since it debuted online on Aug 30 it has been viewed more than 4.5 billion times, Youku says. On China's most popular review site, douban.com, the drama racked up a score of up to 9 out of 10, while the Amazon-affiliated IMDb gave it 8.9 points out of 10.
One critic on IMDb called it "the Asian version of Sherlock Holmes with a shocking twist and turn". "With a tense and an absorbing plot, along with the superb performances the actors give, this drama is certainly a pleasure to watch."