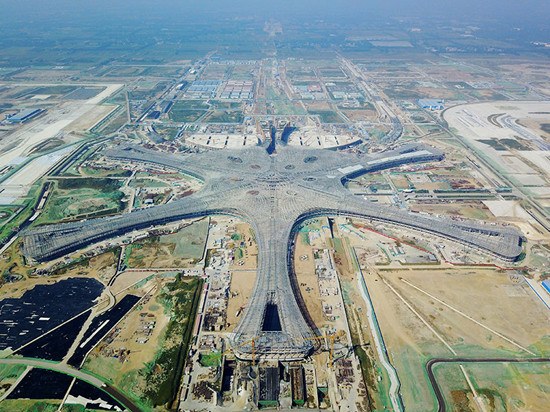 The new Beijing airport, pictured here in September, will open in 2019. (JU HUANZONG/XINHUA)
Work has begun on internal decorations and equipment installation at Beijing's new airport, after the terminal building was sealed on New Year's Eve.
The project, which is being built at an estimated cost of 80 billion yuan ($12.3 billion), will be one of the world's largest airports when it opens in September 2019.
The terminal's roof and glass walls were installed on Sunday, and most of the remaining construction is scheduled to be completed by the end of this year, according to the city government.
In 2019, the airport is expected to go into test operations before finally opening to passengers, just five years after construction began on Dec 26, 2014.
Leaders said last year that "Beijing will make every effort to ensure the development of Xiongan New Area"-set up to accommodate Beijing's noncapital functions-and accelerate integrated development of the Beijing-Tianjin-Hebei region.
The airport, which is still to be named, is being built 67 kilometers south of downtown Beijing on land that straddles the capital's Daxing district and Hebei province's Langfang. It will be linked to urban areas by a high-speed railway, intercity trains and a major expressway.
Beijing Capital International Airport, in the city's northeast, is the second-largest in the world in terms of passenger volume. The new airport is expected to ease the load.
Construction has so far involved 1.6 million cubic meters of concrete, and 52,000 metric tons of steel covering a total 47 square kilometers, including runways.
The airport is expected to serve an initial 45 million passengers a year, with plans to eventually expand that to 100 million. It has been designed to be passenger-friendly, with the farthest boarding gate 600 meters from the center of the terminal-about an eight-minute walk.
China Southern and China Eastern airlines, along with other SkyTeam airlines, will move to the new airport, while Air China and other Star Alliance carriers will continue to operate flights from Beijing Capital International Airport.