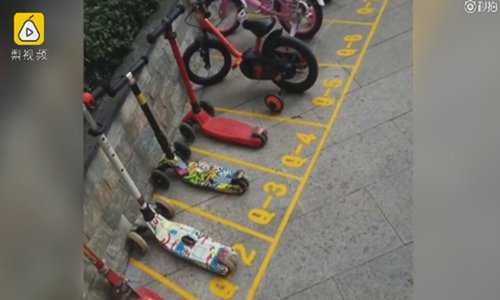 Pictured are numbered parking spaces outside the school. (Screenshot photo)
For those familiar with the chaotic clumpings of shared bikes parked on China's streets, this will make sense.
A kindergarten in Southwest China's Chongqing is teaching students to keep things tidy with kid-sized parking spaces for their bikes and scooters, Pear Video reported Wednesday.
The school decided on the mini-parking lot to curb kindergarteners from leaving their bikes and other rides outside the school in disarray.
"Teachers said it was getting out of hand and disorderly," one student's mother told Pear Video.
Photos showed numbered parking spaces painted in yellow outside the school.
Each mini space is occupied by either a little bike with training wheels or a cute plastic scooter.
"The kids are proud of them, they think they're great," said the parent.
Parents said they love the concept not only because it teaches children to respect public spaces, but also because the lot is first come, first serve.
"Another parent complained their kid would never get out of bed in the morning. But now that he has to compete for a parking space, he gets up early every day," said the parent.
Netizens pulled in to drop off some comments. "Don't drink milk and drive," said Sina Weibo user "heshudezahuopu."