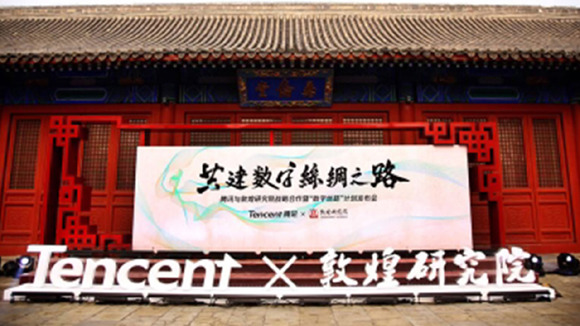 Tencent and the Dunhuang Research Academy inked a deal to digitize the Mogao Caves, a UNESCO World Heritage site along the ancient Silk Road. (Photo/CGTN)
The tech giant Tencent is dipping its toes into the rich pool of Chinese culture in its latest project to digitize the Mogao Caves, a UNESCO World Heritage site along the ancient Silk Road.
Tencent, along with the Dunhuang Research Academy responsible for the caves, inked a deal in Beijing on Dec. 29 to digitize the experience of visiting the hundreds of caves filled with Buddhist statues and other art spanning 1,000 years.
"In 2006, we initiated the 'Digital Dunhuang' project, which has digitized 180 caves. This time, the academy will team up with Tencent to continue the digitization work. What's more, Tencent will help us make the digitization cultural resources of the Mogao Grottoes more accessible to people," said Wang Xudong, director of the academy, which is the research institute and administration center for the caves.
According to the agreement, Tencent will use its technology to help the academy better display its cultural relics through virtual reality and augmented-reality channels.
They will also design a new digital platform to allow people who are unable to travel to Dunhuang to have an immersive experience.
The platform will be based on a huge database compiled by the academy.
The agreement also allows Tencent to incorporate cultural resources from Dunhuang into entertainment products, including games, cartoons and music in multiple languages.
"Several new roles and storylines inspired by the murals in the Mogao Grottoes will be added to King of Glory, a popular multiplayer online battle game developed by the company. We are also considering adding Zhang Qian, the famous explorer along the Silk Road, to the game. And future offshoots of the game will be designed to promote Dunhuang's history and culture for game players," said Dai Bin, who works for corporate marketing and public relations at Tencent.
Tencent will also help the academy improve the visitor experience by employing facial recognition technology.
The partners also launched the "Digital Silk Road" project, which aims to protect, promote and revitalize the cultural relics along the ancient route.