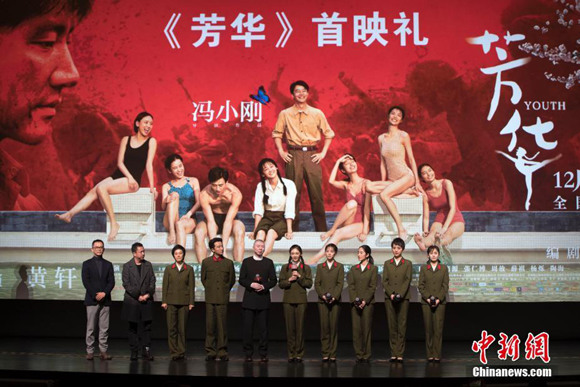 Chinese director Feng Xiaogang (Front, L5), and cast members attend the premiere of the movie "Youth" in Beijing, Dec, 6, 2017. (Photo/China News Service)
Veteran director Feng Xiaogang's "Youth" continued to dominate the Chinese box office, earning 359 million yuan (55.3 million U.S. dollars) in its third week, according to the latest statistics released by China Film News.
The romance film has raked in more than 1.18 billion yuan since hitting Chinese screens on Dec. 15.
Domestic comedy "The Ex-File: The Return of the Exes" came in second, grossing 293 million yuan in its first week.
Third place went to Chinese thriller "Gold Buster," earning 250 million yuan since its release on Dec. 29.
The fantasy film "Legend of the Demon Cat" landed in fourth place, generating 225 million yuan last week. It has made 468 million yuan since its release on Dec. 22.
Rounding out the top five was another fantasy film, "Hanson and the Beast," which grossed 170 million yuan in its debut week.