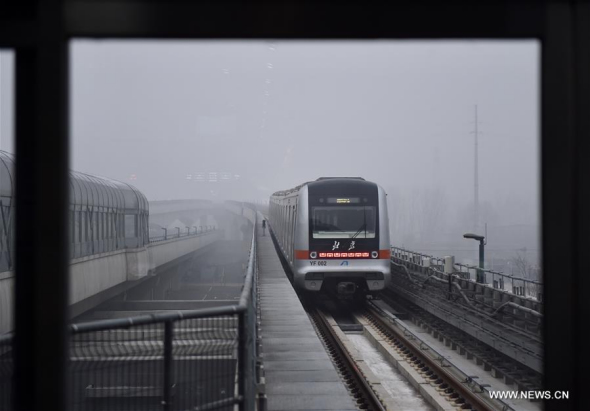 A train runs on Yanfang subway line in Beijing, capital of China, Dec. 30, 2017. Yanfang line started trial operation on Saturday. Located in Beijing's southwest suburbs, the Yanfang Line is China's first fully domestically developed automated subway. It has nine stations on its 14.4-km main line, linking the areas of Yanshan and Fangshan. The line is expected to carry 70,000 passengers daily. (Xinhua/Luo Xiaoguang)
Three new subway lines, including one for driverless trains, started operations in Beijing on Saturday, bringing the number of city lines to 22.
Yanfang Line, one of the three new lines, is China's first complete self-developed automated subway.
Located in Beijing's southwest Fangshan District, the 14.4-km main route of Yanfang Line has nine stations, connecting many neighborhoods in the district. The line is expected to carry 70,000 passengers daily, China's Xinhua News Agency reported.
The other two new lines are the 10.2-km Line S1, Beijing's first medium-low speed maglev line connecting the western suburban districts of Mentougou and Shijingshan, and the 9-km West Suburb Line connecting tourist spots, including the Summer Palace and the Fragrant Hills in the city's northwest.
Beijing's subway routes have increased by 400 kilometers to 608 kilometers and expanded by 14 lines since 2008 when the capital hosted the Summer Olympic Games, according to the city's Transport Institute. The city plans on building the world's largest subway system by 2020.