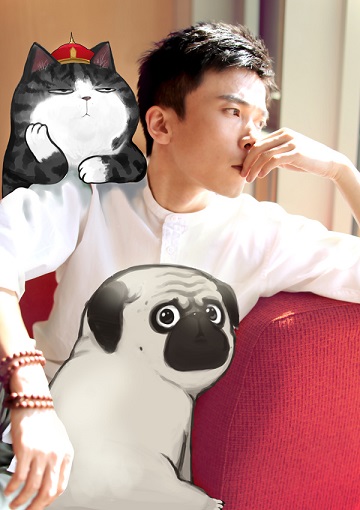 Cartoonist Liang Kedong and two iconic characters in his picture books, which have sold nearly 3 million copies. (Photo provided to China Daily)
Cartoonist Liang Kedong's works are sometimes called frivolous. And he's happy about that.
"I'll be very satisfied if my works make readers laugh," he says at his company in Beijing.
"Chinese people are facing great pressure. I hope to reduce that."
Liang, who's known as Bai Cha (white tea) online, is celebrated for his picture books, especially those about a fat, bossy, black-and-white cat named Wu Huang (your majesty), a stocky pug called Ba Zhahei and their owner, an unnamed young man.
The characters resemble Jim Davis' comic strip Garfield, featuring Garfield, the cat, his owner, Jon Arbuckle, and Jon's dog, Odie.
Cute images, witty remarks and interesting plots made Liang's first two books big successes.
They've sold nearly 3 million copies.
The third book was released recently. The theme is articulated by the cat: "I love you dearly but show it through condescension."
Like Garfield, Wu Huang is street-smart and sassy, yet ultimately kindhearted and insightful.
He always squints at and bullies Ba Zhahei, the innocent, dim-witted dog who eats everything, and the young man, who's also a cartoonist.
The cat stands atop the pyramid of "contempt", and the dog is at the bottom.
Ba Zhahei is somewhat jealous of Wu Huang's position but isn't clever enough to overthrow "his majesty".
Liang deliberately adds typical Chinese elements. He renders the characters' images by borrowing techniques from traditional painting.
The book's characters look realistic. That includes the new characters in the third book-Ren Zhong (philtrum), a kitten with a long philtrum, and Chi Zhong (middle wing joint), a tiny bird that wears an ancient Chinese-style hat similar to that worn by Jia Baoyu, the protagonist in the classical Chinese novel The Dream of the Red Chamber.
Some people call the style chinoiserie.
But Liang disagrees.
The 32-year-old learned while studying graphic design at the Xi'an Academy of Fine Arts that adding traditional elements like signets, Peking Opera costumes and certain color schemes can imbue images with a Chinese feel.
Liang vividly depicts the animals but vaguely renders human characters.
The facial features of the pets' owner, for instance, are essentially an L for a nose above a short horizontal line for a mouth.
"I try to get readers to focus on the animals," he says.
"They're the core characters."
The style generally is a blend of picture books and comics, which is ideal for narrating short stories.
"I know not many Chinese read Japanese comics," Liang says. "I hope to attract an extensive readership of all ages using this combination of styles."
Cartoonist Han Dan, whose work Jiemao Suo ("De-catification" Center) about overcoming addiction to cats went viral online, says Wu Huang represents all the qualities readers believe an ideal cat should possess-he's fat, cute and mean.
"It's like a mascot," Han says.
"And the witty remarks are funny to many readers. But I don't believe there's much deep meaning."
Liang had many dreams growing up in Shaanxi province's countryside. He hoped to become a pilot, an actor and a painter, among other things.
"But it's comparatively easy to realize the dream of drawing," he says.
He was obsessed as a kid with the comic-book character Doraemon, a blue-and-white robotic cat from the future.
He dropped out of the Xi'an Academy of Fine Arts before his third year, partly because of the high tuition costs.
"Graphic design is too general a subject. You have to learn a lot of things but not painting, which is what I wanted to do. I tried to study painting while working."
He spent 10 years illustrating sci-fi works, and working for publishing houses and advertising companies. He spent this time trying to improve his technique and develop his own style.
His sci-fi images won top national awards in 2009 and 2010.
"But I have two sides as a Gemini," he says.
"I create works that express my inner world but also desire market recognition."
Netizens love cats. So, Liang decided to draw 200 different felines to catch public attention.
But he found the cats began to look similar, the more he drew, aside from the patterns on their fur. He felt lost by the 25th cat.
He one day adopted a stray he found beside a garbage can.
The black-and-white cat loved to squint. It seemed as if it was saying it was the master and Liang was its servant.
This inspired the original image of Wu Huang, which went viral on the micro blog platform Sina Weibo.
Netizens named the cat based on its attitude.
Liang later moved to Beijing. He started his own company in April 2016.
Now, with 26 employees, one pug and three cats, Liang creates the Just Like series and a growing number of branded products, such as cushions, notebooks and phone cases in cooperation with other brands.
"I'm not afraid that people will eventually tire of Wu Huang and Ba Zhahei," he says.
"They're animal images. But their thoughts and remarks come from my observations of society. We've grown up together. And I want to make Wu Huang and Ba Zhahei China's most iconic animal images."