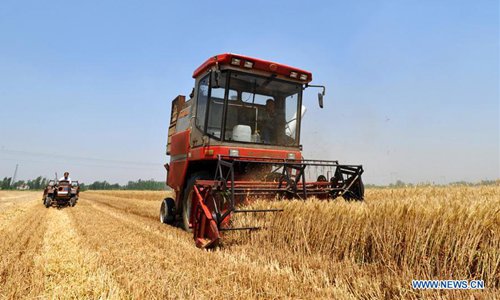 A harvester collects wheat in Nanpi County, north China's Hebei Province, June 11, 2017. (Photo/Xinhua)
China's top legislature on Wednesday approved a decision to extend a pilot program allowing farmers in selected areas to mortgage their land use rights and housing property rights.
The decision was made by the Standing Committee of the National People's Congress (NPC) at a bimonthly session, which ended Wednesday.
Approved in December 2015, the pilot program for mortgaging contracted land use rights tried out in 232 regions in Beijing, and that for mortgaging rural property rights was tested in 59 localities in Tianjin.
The pilot program was scheduled to expire on Dec. 31, 2017. Wednesday's decision means the pilot program will be extended for one year until Dec. 31, 2018.
The pilot program over the past two years has achieved strong results, with improvement in rural financial services and higher incomes for farmers.
By the end of September, the program saw 44.8 billion yuan (about 6.8 billion U.S. dollars) of loans issued in the 232 regions and 26.1 billion yuan issued in the 59 regions.