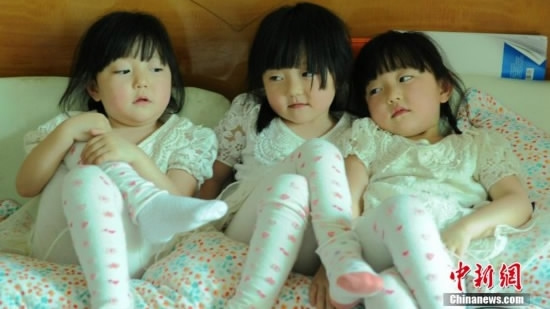 The triplets at their fourth birthday on May 27, 2014. /Chinanews Photo
In mid-2013, a Chinese mother with stomach cancer recorded a viral video message for the wedding ceremonies of her young triplet girls.
Li Shu feared then she may be dying and miss the weddings.
More than four years on, Li's desire now is to attend the ceremonies in person.
In new footage produced by a Chongqing-based filming organization, the 34-year-old mother looks better than in her previous homemade video which has surpassed 10 million views online.
Li said she has become who she is now with the inspiration and help from netizens in the past few years.
"As your mother, I wish you happy more than 20 years in advance," she said in the original footage recorded for her triplets' wedding ceremonies.
Her only wish since then has been "to be lucky enough to express my love to the girls personally on their big days."
The mother underwent successful tumor removal surgery after she was diagnosed in 2013 with adenocarcinoma, which accounts for 90 percent of stomach cancers.
She undergoes periodic checkups in Chongqing every year. "I couldn't fall asleep at the beginning, but I have been calmed down and begin to enjoy the stunning scenery of Shapingba District in the city," she said.
The three girls sent a message through WeChat to their mother when she was in Chongqing this year, saying "Mom, we are brave. Love you forever."
On the latest Mother's Day, the girls, now in primary school, gave Li presents. "They made me proud," mum said.
"The girls are adorable and sweet," said Miaomiao, who is the leader of the filming organization. "They endow their mother with great power."
Li decided to donate clothes of the triplets that are too small for them to a family with triplets in Sichuan Province.
"She is trying to spread the love she has received from others," said Miaomiao.
Li has returned to work at a community clinic.