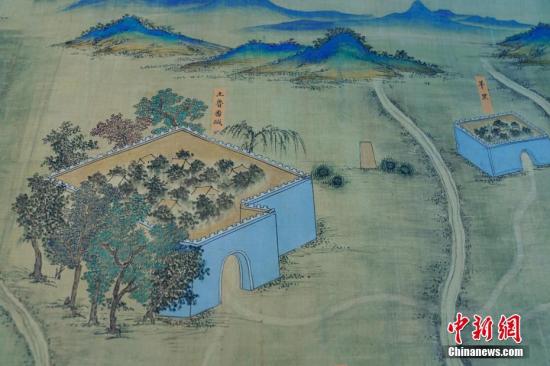 The painting Silk Road Landscape. (Photo/Chinanews.com)
Silk Road Landscape, a Ming Dynasty (1368-1644) painting, was just returned to China's Palace Museum after being kept over 70 years in a private Japanese museum. It maps 211 coordinates on the Silk Road and won high praise from US President Donald Trump during his recent visit to the Palace Museum.
The 30.12 meter-long silk scroll painted with special blue and green mineral colors is from the Jiajing reign (1522-1566) of the Ming Dynasty. It was returned to China with the help of a Chinese-Australian billionaire, Xu Rongmao.
"When I knew the Palace Museum was held up by a lack of money, I felt I had the responsibility to help the painting return home," Xu said, after purchasing the painting for $20 million and donating it to the Palace Museum in late November.
In recent years, more and more overseas Chinese are helping to return antiques to China, according to media reports.
There are over 1.64 million Chinese antiques in about 200 museums spread across 47 countries around the world, according to a report issued by UNESCO. After the First Opium War in 1840, over 10 million Chinese antiques were stolen and illegally sold abroad, including over 1 million first- and second-tier national antiques, according to statistics from the China Cultural Relics Academy.
"The returning national treasures are supported by worldwide overseas Chinese sponsorship and negotiation," said Shan Jixiang, the curator of the Palace Museum.
The Chinese-Belgian porcelain collector Wu Pei transported over 1,000 pieces from collections back to China and held the Ming and Qing Dynasty Exported China Exhibition in 2014. Collecting is not only Wu's interest, but also part of a dream to realize the return of antiques.
"These porcelain antiques can be only seen by me at home, but they will be appreciated by more people if they are transported back to China," Wu said.
He hopes more people can share his love for exported porcelain, and also hopes to improve academic research through his donations.
In addition, Chinese-Hungarian Li Zhen is the negotiator to help local residents of Yangchun village in Southeast China's Fujian province fight for the return of their Buddha statue, which was stolen in 2015.
He went several times to the Hungarian display where the statue was found to check the details, and also visited the Netherlands embassy in Hungry seeking help.
Chinese-American Zhao Sihong has restored over 5,000 antiques to China with his team since 2004.
To cut down on the procedures and taxes involved in returning antiques, the first return antique trading market was set up at the Beijing National Base for International Cultural Trade.