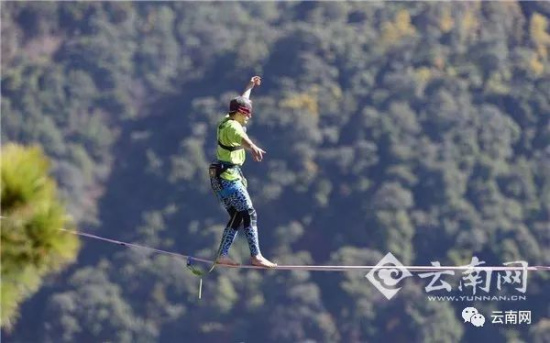 the first challenger Pablo Signoret. (Photo/Yunnan.cn)
The "2017 International Highline Challenge" was held at Shimenguan Geopark, in the city of Dali in southwest China's Yunnan Province.
Slacklining is a niche sport that involves balancing and walking on a one or two inch wide strap called "webbing." The webbing is suspended anywhere from 1 to 900 meters above ground, with the daredevil walking between the two points on the strap.
The "festival" involved a Guinness World Record attempt for the "longest blindfold slackline walk" with the top three athletes making the final lineup for this challenge.
But after an excruciating 25 minutes into round one, it was the first challenger Pablo Signoret, who achieved the title. CGTN caught the new world-record holder's reactions after the event.
Although the sport is relatively young there had been a number of concerns regarding how safe the sport is. Antony Newton, President of the International Slackline Development Organisation addressed the issue.
"A lot of people tell us that we're crazy and when they see it from the outside they think it's very dangerous… As soon as the line's up and you leash yourself to the line, and we have a harness like climbing, and we have a rope to attach to us to a ring on the line and as soon as you're attached to this ring nothing can happen to you."
What's next for this tight-knit community and the world of professional slacklining? Well they all want to keep achieving new heights, and promote their "not extreme" sport to the world.